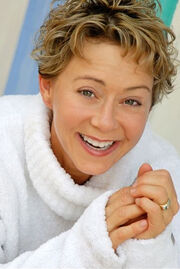 Debi Derryberry (born Spetember 27, 1967) is an American voice actress, singer, composer, and kid's entertainer who won an American Anime Award.
She voiced Jake Tazmanian Devil from Taz-Mania, Jackie from Bobby's World, Clay from Playhouse Disney, Jimmy Neutron from Jimmy Neutron, Wednesday Addams from The Addams Family cartoon series, one of the Puppies from Babe, Nergal Jr. from The Grim Adventures of Billy and Mandy, Alexa from Diva Starz, Coco Bandicoot from Crash Bandicoot, Zack Putterman from the Duracell battery commercials, and Draculaura from the Monster High cartoons.
Ad blocker interference detected!
Wikia is a free-to-use site that makes money from advertising. We have a modified experience for viewers using ad blockers

Wikia is not accessible if you've made further modifications. Remove the custom ad blocker rule(s) and the page will load as expected.