Created By "Mute" On His Forums. Stay Active On This Site As We Hope We Can Earn A Full Wikia.
Thank You Very Much For Reading This Mini-Wiki! Created By A Default-X™ Fan.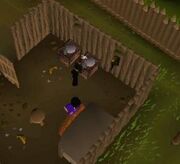 Default-X™ Percentage Bar
|||||||||||||||||||||||||||||||||||||||||||||||||||||||||||||||||||||||||||||||||||||||||||||||||| 24%

So Far Default-X™ Is 24% Through It's BETA Coding. Hold On It Will Be Released Soon.
Default-X™ Current Development
Complete Farming To A State
Complete Woodcutting
Complete Fishing
Complete Thieving
Custom City : Named Siythnx
More Comming Soon
Default-X™
Default-X™ Is A Brand New Runescape Private Server. It Was Created By A Fourteen Year Old Boy Who Goes By The Name "Mute" On His Forums. All Skill's Working And Server Is Online 80% Of The Day.
That 20% Is When He Is Either Updating Or Creating New Area's For The Player's. Currently Being Made Default-X™ Is All About Fun And Chilling With Friends. To See Progress On Server Look Above For A Percentage Bar.
The Bar Shows How Much Percent The Server Is Coded.
Default-X™ In-Game Information
Default-X™ Is Open To Public Idea's For The Game
Default-X™ Has 100% Working Requirements
Default-X™ Also Has Excellent Staff Who Will Help With Next To Anything
Default-X™ Has Staff Positions Open As Soon As We Open To The Public
Yes Default-X™ Has Some BETA Testers But You Can Ask To Join In Once Where 50% Through Development
Default-X™ History
Default-X™ Was Inspired By Frugooscape As Mute Is A Long Time Player Of It. Soon After Frugooscape Returned Mute Decided To Make A Guide For Autoers. A What-Not-To-Do Guide. So He Apeared To Auto So He Could Get Banned Temporary For A Screen Shot From An Admin.
He Spent 2 Weeks ( He Was Banned For 2 Weeks ) Creating The Guide Ready To Post.
He Also Figured Out How To Make Free Websites. So He Posted His BETA Server Named Salacia. This Was A Devolution Based Server. He Got 100+ Hits Within The Week.
Later That Week He Caught A Trojan And Was Forced To Delete His Computer Account Along With All His Files. 'Salacia' Was Lost. So He Made Another Server Named Miscellania Where Everyone Could Use ::pickup . This Was Famous For A Few Days But It Didn't Pickup So He Gave Up.
He Found A Blank Source And Started Coding His Own Creation. That's How He Came Upon The Idea Of Default-X™. He Got The Name For The Server As The Name Of The Source Was Defaultscape . So He Went On From There.
And That Leads Us To Now With This Mini-Wiki . Hoping To Earn A Full Wikia When It Becomes Famous Enough.
Default-X™ Website
Mute Created His Website For Free On www.smfnew.com On The 22 / 12 / 08 . It Had A Few Hit's The Day After It Was Made.
Visit This Website Here : www.defautx.smfnew.com
Contact Information
E-Mail : i_wuz_ere_07@hotmail.com
Website : www.defaultx.smfnew.com ; Curently Under Matinence
Runescape Username : Z_Da ( Is On Most Of The Day Due To Holidays )
Youtube Username : SorryImOnline
Mute's E-Mail
i_wuz_ere_07@hotmail.com Was Actually Created 2007 By "Mute". Created For The Purpose Of M.S.N . But He Uses It For His Forums & Contact.
Mute's Website
www.defaultx.smfnew.com Was Created December 22nd 2008.

Update: Website Is Currently Down As Admins Are Adding Content.
Mute Is 100% Stupid Creative While Updating The Server + Client.
Mute's Username
Z_Da Was Created December 19th 2008 For The Purpose Of Making A Farming Pure. He Then Realised That This Was Slow And Boring. So He Quested For Fun.
After His Fourth Day As Member He Had :
52 Quest Points
Mouse Toy
Bomber's Jacket
200'000GP +
He Had Succeeded In Most Quests That Are Meant For Higher Combat Players. Example : Icthlarin's Little Helper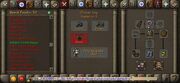 Mute's Youtube Account
SorryImOnline Was Made On December 24th 2008.
Ad blocker interference detected!
Wikia is a free-to-use site that makes money from advertising. We have a modified experience for viewers using ad blockers

Wikia is not accessible if you've made further modifications. Remove the custom ad blocker rule(s) and the page will load as expected.