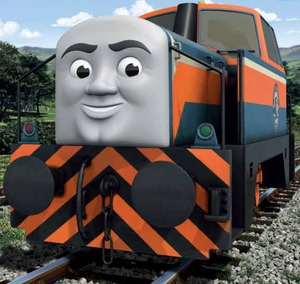 Den
is a diesel engine who works at the Dieselworks with Dart.
Date of Birth
Date of Death
October 30, 2020 (aged 21)
Bio
Den is a diesel who runs the Dieselworks when Diesel 10 is not around.
Den is slow and thoughtful. While he is not devious, he is still a diesel.
Basis
Den is based on the Rolls Royce Sentinal Diesel Hydraulic 0-4-0.
Appearances
Day of the Diesels
Tale of the Brave
Season 15
Stop That Bus (cameo)
Stuck on You (cameo)
Tree Trouble
Fiery Flynn
Season 16
Ol' Wheezy Wobbles
Thomas Toots the Crows
Bust My Buffers
Season 17
Steamie Stafford (cameo)
Away from the Sea
Season 18
Dissapering Diesels
Gator-Saur Rex
Voice Actors
Merchandising
Wooden Railway
Trackmaster
Take N Play
Mega Bloks
Hornby (coming soon)
Theme
Den's theme is the Roll Call from the Day of the Diesels theme song, which he shares with Dart, Norman, Paxton, and Sidney.
Counterparts