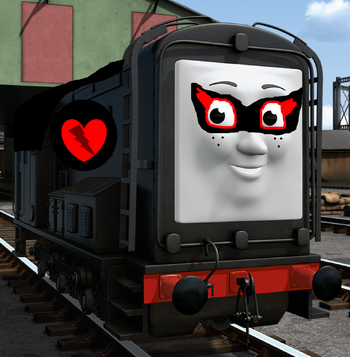 Denny 
is 
Diesel
's cheeky and troublesome brother who delights in pulling pranks on people and engines. Diesel is the first to see him and unmask him with the help of his friends. 
Bio
Denny used to prank his brother and other engines. First he pranked Mavis, then he pranked Salty, then he prank Thomas and his friends, and then he pranked Diesel himself. Eventually, Diesel and the steamies unmasked him but couldn't resist helping his brother with one final prank.
Trivia
Ad blocker interference detected!
Wikia is a free-to-use site that makes money from advertising. We have a modified experience for viewers using ad blockers

Wikia is not accessible if you've made further modifications. Remove the custom ad blocker rule(s) and the page will load as expected.