Jimmyandfriends's movie-spoofs of "Despicable Me 2"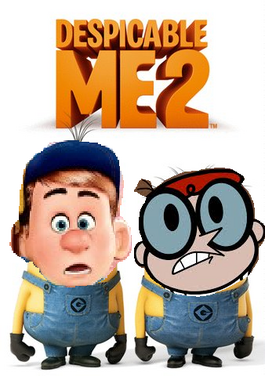 Cast
Wreck-It Ralph as Gru
Anna (Frozen) as Lucy Wilde
Sam Sparks (Cloudy with a Chance of Meatballs) as Margo
Dee Dee (Dexter's Laboratory) as Edith
Vanellope Von Schweetz (Wreck-It Ralph) as Agnes
Elsa (Frozen) as Marlena Gru
Professor Utonium (The Powerpuff Girls) as Dr. Nefario
Gaston (Beauty and the Beast) as Eduardo Perez/El Macho
Merlin (The Sword in the Stone) as Silas Ramsbottom
SpongeBob SquarePants as Kevin the Minion
Invader Zim as Dave the Minion
Dexter (Dexter's Laboratory) as Stuart the Minion
Fix-It Felix (Wreck-It Ralph), Dexter (Dexter's Laboratory), Wembley Fraggle (Fraggle Rock), Invader Zim and Patrick Star (Spongebob Squarepants) as The Minions
Ad blocker interference detected!
Wikia is a free-to-use site that makes money from advertising. We have a modified experience for viewers using ad blockers

Wikia is not accessible if you've made further modifications. Remove the custom ad blocker rule(s) and the page will load as expected.