See also:
wikia:Devil May Cry wiki
 and
wikipedia:Devil May Cry
This page is best viewed in Monobook because of the wide content it contains. To view this page in Monobook, please click here

Although this page is best viewed in Monobook, to return to Oasis, please click here
Devil May Cry at Wikia
---
[
]
Welcome to the Devil May Cry mini wiki at Scratchpad!
You can use the box below to create new pages for this mini-wiki.
Devil May Cry (デビル メイ クライ, Debiru Mei Kurai?) is a video game series developed by Capcom and created by Hideki Kamiya. Originally intended to be a sequel in Capcom's Resident Evil series, in development it became such a radical departure from the series' style that it was developed into a new property entirely. The series centers on the main character Dante's goal of avenging his mother's murder by exterminating demons. The gameplay consists of heavy combat scenes in which the player must attempt to extend long chains of attacks while avoiding damage in order to exhibit stylized combat; this element along with time and the number of items collected and used are taken under consideration when grading the player's performance.
The series is very loosely based on the Italian poem Divine Comedy by the use of allusions, including the game's protagonist Dante (named after Dante Alighieri) and other characters like Vergil (Virgil), Trish (Beatrice Portinari), Lucia (Saint Lucy), Trismagia (Satan), Furiataurus (the Minotaur), Geryon, and Cerberus. Many of the enemies are also named after the Seven Deadly Sins, such as "Hell Pride" or "Hell Lust".[1]
The series has been a success with the first three games selling multiple million copies and being awarded the "Platinum Title" award by Capcom. The success of the video game series has led to the creation of comic books, novelizations, an animated series, guides, collectibles, publications, and a variety of action figures. A high-definition remaster of the three PlayStation 2 titles was released for PlayStation 3 and Xbox 360 in 2012. The collection features trophies/achievements and high definition graphics.[2][3] During the 2010 edition of the Tokyo Game Show, Capcom revealed a new game, named DmC: Devil May Cry. It was developed by Ninja Theory and was a reboot of the series that explores similar themes and also satirizes certain social themes.
Movies
On February 28, 2011, it was announced that Screen Gems, the company responsible for making Capcom video game series Resident Evil into a film series, had purchased feature film rights to the Devil May Cry series.[4] It has been stated that Kyle Ward will be writing the script for the film. It has also been confirmed by Capcom at E3, that the film will be based on the new game, DmC: Devil May Cry, though Dante's look will stay more true to his classic self. The film is being positioned as an origin story for Dante.[5]
Videos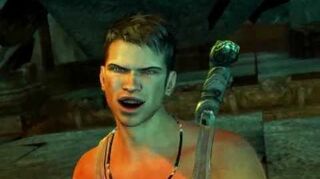 Parodies

 WARNING: You may add parodies. But, do NOT delete any. Complete parodies list
References
See also
Ad blocker interference detected!
Wikia is a free-to-use site that makes money from advertising. We have a modified experience for viewers using ad blockers

Wikia is not accessible if you've made further modifications. Remove the custom ad blocker rule(s) and the page will load as expected.