Ad blocker interference detected!
Wikia is a free-to-use site that makes money from advertising. We have a modified experience for viewers using ad blockers

Wikia is not accessible if you've made further modifications. Remove the custom ad blocker rule(s) and the page will load as expected.
Diamond & Pearl
(Pokémon Trading Card Game)

Diamond & Pearl logo
Cards in set
130
Expansion Code
DP
Set number
Seventeen (By Pokémon USA)
Release Date
May 28, 2007
Preceding Set
EX Power Keepers
Following Set
Mysterious Treasures

Included in the 2006-2007 Modified Format
Included in the 2007-2008 Modified Format

Pokémon TCG: Diamond & Pearl is the seventeenth Pokémon TCG set released by Pokémon USA. The set is the first in English-language territories to include fourth-generation Pokémon; namely, those that first featured in the Pokémon Diamond and Pearl video games on the Nintendo DS.
Types of Pokémon
Pokémon Lv.X
Pokémon Lv.X are a new type of card introduced in Diamond & Pearl. evolve from Pokémon of the same name, but as they have the same name only four in any combination are allowed in a deck. For example, 4 Turtwig are allowed, 4 Grotle are allowed, 2 Torterra are allowed, and 2 Torterra Lv.X are allowed. Torterra can be evolved into Torterra Lv.X - but a Pokémon Lv.X can only be played on an Active Pokémon.
Changes in the new series
The card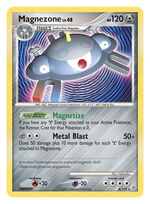 Several changes have been made to the format of the cards; some of these changes were included on previous card formats, and others and brand new.
The card design has been changed due to the shift from the EX Series. This is the fifth card design, after design for Base Set to Base Set 2 (and Legendary Collection), Neo Genesis to Neo Destiny, Expedition to Skyridge, and EX Ruby & Sapphire to EX Power Keepers.
The cards also see the return of several pieces of information seen previously: The Pokémon's level; Pokédex data, such as National Pokédex number, species, height and weight; and Pokédex flavour text. The card design is also more similar to previous designs.
The mechanics
All types of Pokémon cards now have some new mechanics which will affect gameplay in some cases.
Some Basic, and rarely Stage 1, Pokémon now have attacks which can be used without any Energy cards having to be attached to the Pokémon. These attacks usually are considered to do very little damage or have a limited effect.
The weakness and resistance mechanic has also been changed for the first time. Previously, weakness caused an attack to do double the damage, and resistance caused an attack to do thirty less damage. Now, the weakness and resistance varies for every Pokémon, and usually has more effect for stronger Pokémon.
There are also new mechanics to Trainer cards. Originally, Supporter cards and Stadium cards fell under the category or Trainer cards, along with Technical Machines, Pokémon Tools and other types of Trainer. Now, however, Supporter card and Stadium card are separate categories alongside Trainer card. Technical Machines, Pokémon Tools and others still fall under Trainer card.
Two new Basic Energy cards have also been released - Darkness Energy and Metal Energy will be produced as basic Energy cards as well as Special Energy cards as of Diamond & Pearl.
The rules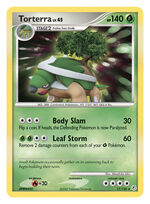 As well as changes to the card design, major changes to the Pokémon Trading Card Game rules have been made.
A rule change in 2003 meant that the player taking the first inital turn could not draw a card; however, that rule change has been withdrawn, and a card must be drawn at the start of every round.
With the debut of Supporter cards in 2003, these cards could not be played on the first inital turn. Now that Supporter card is a separate type of Trainer card, this rule has been extended to include all categories and types of Trainer cards. This includes Fossils (Mysterious, Claw, Root, Shield and Helmet).
Also, Fossil cards can now be played during the setup phase before the first initial turn, but only if a Basic Pokémon can be played as well. Also, knocking out a Fossil card no longer counts as a free KO, and the player must draw a Prize card for knocking one out. This does not apply if a played chooses to withdraw their Fossil card.
Weakness and resistance mechanic changes do not apply for any Pokémon cards prior to Diamond & Pearl, so all Pokémon card printed before the set's release follow the original Weakness x2 and Resistance -30 rulings.
Special Energy variations of Darkness and Metal Energy still allow for the same ruling on the card as before. The new basic Energy variations have no ruling and should not be treated as though they do.
Also, in a 30-card deck, only two copies of a card (except basic Energy) are allowed instead of the previous four. 60-card decks are still allowed up to four copies of a card.
Set List
In the English-language version of the set, Diamond & Pearl cards are listed by set number (there are 130 cards in the set). However, in place of the nine-digit code carried by EX Series cards, the DP series holds the card's same DPBP number as the Japanese version of the card.
Holographic

1/130 Dialga
2/130 Dusknoir
3/130 Electivire
4/130 Empoleon
5/130 Infernape
6/130 Lucario
7/130 Luxray
8/130 Magnezone
9/130 Manaphy
10/130 Mismagius
11/130 Palkia
12/130 Rhyperior
13/130 Roserade
14/130 Shiftry
15/130 Skuntank
16/130 Staraptor
17/130 Torterra

Rare

18/130 Azumarill
19/130 Beautifly
20/130 Bibarel
21/130 Carnivine
22/130 Clefable
23/130 Drapion
24/130 Drifblim
25/130 Dustox
26/130 Floatzel
27/130 Gengar
28/130 Heracross
29/130 Hippowdon
30/130 Lopunny
31/130 Machamp
32/130 Medicham
33/130 Munchlax
34/130 Noctowl
35/130 Pachirisu
36/130 Purugly
37/130 Snorlax
38/130 Steelix
39/130 Vespiquen
40/130 Weavile
41/130 Wobbuffet
42/130 Wynaut

Uncommon

43/130 Budew
44/130 Cascoon
45/130 Cherrim
46/130 Drifloon
47/130 Dusclops
48/130 Elekid
49/130 Grotle
50/130 Haunter
51/130 Hippopotas
52/130 Luxio
53/130 Machoke
54/130 Magneton
55/130 Mantyke
56/130 Monferno
57/130 Nuzleaf
58/130 Prinplup
59/130 Rapidash
60/130 Rhydon
61/130 Riolu
62/130 Seaking
63/130 Silcoon
64/130 Staravia
65/130 Unown A
66/130 Unown B
67/130 Unown C
68/130 Unown D

Common

69/130 Azurill
70/130 Bidoof
71/130 Bonsly
72/130 Buizel
73/130 Buneary
74/130 Chatot
75/130 Cherubi
76/130 Chimchar
77/130 Clefairy
78/130 Cleffa
79/130 Combee
80/130 Duskull
81/130 Electabuzz
82/130 Gastly
83/130 Glameow
84/130 Goldeen
85/130 Hoothoot
86/130 Machop
87/130 Magnemite
88/130 Marill
89/130 Meditite
90/130 Mime Jr.
91/130 Misdreavus
92/130 Onix
93/130 Piplup
94/130 Ponyta
95/130 Rhyhorn
96/130 Roselia
97/130 Seedot
98/130 Shinx
99/130 Skorupi
100/130 Sneasel
101/130 Starly
102/130 Stunky
103/130 Turtwig
104/130 Wurmple

Trainers

105/130 Double Full Heal
106/130 Energy Restore
107/130 Energy Switch
108/130 Night Pokemon Center
109/130 PlusPower
110/130 Poke Ball
111/130 Pokedex Handy910
112/130 Professor Rowan
113/130 Rival
114/130 Speed Stadium
115/130 Super Scoop Up
116/130 Warp Point
117/130 Energy Searach
118/130 Potion
119/130 Switch

Pokémon Lv.X

120/130 Empoleon
121/130 Infernape
122/130 Torterra

Basic Energy

123/130 Grass Energy
124/130 Fire Energy
125/130 Water Energy
126/130 Lightning Energy
127/130 Psychic Energy
128/130 Fighting Energy
129/130 Darkness Energy
130/130 Metal Energy
Pokémon Trading Card Game sets