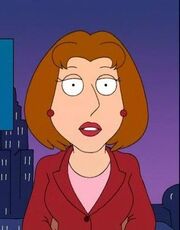 Diane Simmons
was
Tom Tucker
's co-anchor on
Family Guy
. She was voiced by
Lori Alan
. In the episode,
And Then There Were Fewer
, she turned against Tom after finding out she was going to be fired on her 40th birthday. After comitting several murders, she planned to kill Lois, but was killed by
Stewie
at the end of the episode.
Counterparts (Don't edit or delete, but you can add some)

 WARNING: You may add appropriate counterparts. But, do NOT delete any.
Kraka-Toa (TUGS)
Kammy Koopa, Birdo, Mecha-Birdo, or Wendy O. Koopa Super Mario Bros)
Mama Robotnik, Princess Kupacious, Breezie, Wave the Swallow, Zeena, Katella, Rouge the Bat, Bunnie Rabbot, or Zorabel (Sonic the Hedgehog)
Evil Midge Smoot (Shining Time Station)
Agnes Skinner (The Simpsons)
The Queen (A Bug's Life)
Grandma Thora Read or Molly MacDonald (Arthur)
Aunt Myrtle (The Wubbulous World of Dr. Seuss)
Ms. Fowl (Jimmy Neutron)
Mrs. Cutler (Scooby Doo)
Mrs. Estelle Dabney (Good Luck Charlie)
Mrs. Brinks (Angela Anaconda)
Bonnie (Kim Possible)
Kathy Copter (Cars)
Katnappe (Xiaolin Showdown)
Madame Morrible (Wicked)
Officer Jenny or Mawile (Pokemon)