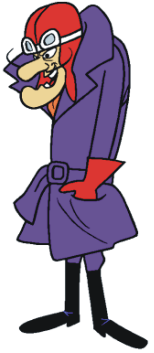 Dick Dastardly
is a character from
Wacky Races
and
Dastardly and Muttley
. He was originally voiced by
Paul Winchell
and is currently voiced by
Jim Cummings
.
Counterparts (Wacky Races/Dick Dastardly and Muttley Version) (Villain Version) (Boy Version) (Do Not Delete, But You Can Add)
AoStH/Sonic Boom Dr. Robotnik - Sonic the Hedgehog
Rattles - Arthur
Timmy McNulty - Rugrats
Roger Klotz - Doug
Janitor Russ Poopatine - Fanboy and Chum Chum
Father - Codename: Kids Next Door
The Bookman - Bedknobs and Broomsticks
Doc Terminus - Pete's Dragon
Sykes - Oliver & Company
Ronno - Bambi
Devimon - Digimon
Heihachi Mishima - Tekken
Ello Gov'nor (The British Taxi) - Regular Show
Demitri- Darkstalkers, both are Villain Protagonists
Sarge the Onion - Papa Louie,both are Violets/Purples
Lord Zedd - Power Rangers
Megatron - Transformers
Macusoper - GoAnimate
Counterparts (Yogi Version)
Unknown - Sonic the Hedgehog
Dr. Fetus - Super Meat Boy/Doki
Radley Madish - Papa Louie
Mr. Keebler - GoAnimate
Counterparts (Girl Version)
Daisy - Thomas the Tank Engine and Friends
Josee - Total Drama Presents: The Ridonculous Race
Counterparts (Heroes Version)
Thomas - Thomas the Tank Engine and Friends
Ten Cents - TUGS
Theodore Tugboat - Theodore Tugboat
Counterparts (Doki Version)
Ad blocker interference detected!
Wikia is a free-to-use site that makes money from advertising. We have a modified experience for viewers using ad blockers

Wikia is not accessible if you've made further modifications. Remove the custom ad blocker rule(s) and the page will load as expected.