Ad blocker interference detected!
Wikia is a free-to-use site that makes money from advertising. We have a modified experience for viewers using ad blockers

Wikia is not accessible if you've made further modifications. Remove the custom ad blocker rule(s) and the page will load as expected.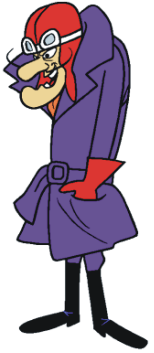 Dick Dastardly
is a character from
Wacky Races
and
Dastardly and Muttley
. He was originally voiced by
Paul Winchell
and is currently voiced by
Jim Cummings
.
Counterparts (Wacky Races/Dick Dastardly and Muttley Version) (Villain Version) (Boy Version) (Do Not Delete, But You Can Add)
AoStH/Sonic Boom Dr. Robotnik - Sonic the Hedgehog
Rattles - Arthur
Timmy McNulty - Rugrats
Roger Klotz - Doug
Janitor Russ Poopatine - Fanboy and Chum Chum
Father - Codename: Kids Next Door
The Bookman - Bedknobs and Broomsticks
Doc Terminus - Pete's Dragon
Sykes - Oliver & Company
Ronno - Bambi
Devimon - Digimon
Heihachi Mishima - Tekken
Ello Gov'nor (The British Taxi) - Regular Show
Demitri- Darkstalkers, both are Villain Protagonists
Sarge the Onion - Papa Louie,both are Violets/Purples
Lord Zedd - Power Rangers
Megatron - Transformers
Macusoper - GoAnimate
Counterparts (Yogi Version)
Counterparts (Girl Version)
Daisy - Thomas the Tank Engine and Friends
Counterparts (Heroes Version)
Thomas - Thomas the Tank Engine and Friends
Ten Cents - TUGS
Theodore Tugboat - Theodore Tugboat
Counterparts (Doki Version)