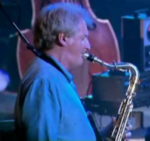 Dick Parry (born December 22, 1942 in Kentford, England) is an English saxophonist. He has appeared as a session musician on various albums by modern bands and artists. Most notably, he plays saxophone solos on many Pink Floyd tracks including "Money" and "Us and Them" (from The Dark Side Of The Moon), "Shine On You Crazy Diamond" part 5 (from Wish You Were Here) and "Wearing The Inside Out" (from The Division Bell).
He is currently touring in Europe, the United States, and Canada with David Gilmour, playing saxophone on "Shine On You Crazy Diamond", "Wearing the Inside Out", and "Then I Close My Eyes" for Gilmour's On An Island Tour.

He started his career as a friend of Pink Floyd guitarist David Gilmour, and was part of a mid-1960's band called Joker's Wild. From there, Gilmour persuaded him to play on various Pink Floyd studio albums as well as during many live performances between 1972 and 2006. He has also been heard touring Europe and South Africa with the Violent Femmes.
Ad blocker interference detected!
Wikia is a free-to-use site that makes money from advertising. We have a modified experience for viewers using ad blockers

Wikia is not accessible if you've made further modifications. Remove the custom ad blocker rule(s) and the page will load as expected.