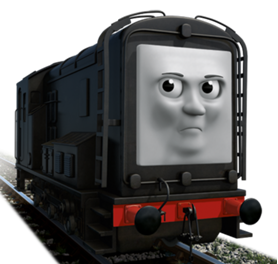 Diesel
(The )(Little ) Diesel is a devious black diesel shunter, and the main antagonist of Thomas the Tank Engine Tales. He likes telling the island of Sodor steam engines that they will soon be sent to the scrapyard. Diesel often gets sent away from Sodor for this.
In the Thomas movies, he stars as a minor antagonist in Calling All Engines, Misty Island Rescue & Day of the Diesels and stars as the main antagonist in Blue Mountain Mystery.
Personality
Diesel is mean, cold, devious, evil, bullying, and dastardly.
Looks
Diesel is a black diesel engine. He has a square, gray, face, black eyes, a red buffer beam, and often wears a scowl on his face. Diesel has six, black wheels He speaks in The Lost Puff.
Appearances
Season One
Season Two
Movies/Specials