Diesel 11 is an fan-made character from Thomas the Tank a Engine & Friends. He is a very evil, complete monster British Rail class 55 with 2 mechanical Claws.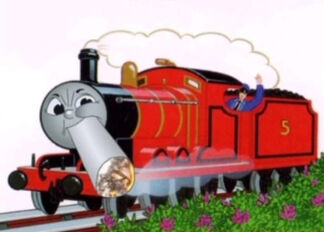 Allies: Diesel, Arry, Bert, Diesel 10 (brother), George, Bulgy, Elizabeth, Daisy 
Enemies: Thomas (character), Edward, Henry, Gordon, James, Percy, Emily, Oliver, Rosie, Spencer, Diesel 10 (formerly), Den, Dart,
Counterparts
Smelter (TUGS, fan made)
Black Doom (Sonic the Hedgehog)
True Ogre (Tekken)
King Craw (My Little Pony: Friendship is Grevious)
King Ghidorah (Godzilla)
Yami (Theodore Tugboat)
Lokar (Power Rangers)
Zero (Kirby)
President Snow (The Hunger Games)
Barney (The Jihad to Destroy Barney/Day of Barney)
Ad blocker interference detected!
Wikia is a free-to-use site that makes money from advertising. We have a modified experience for viewers using ad blockers

Wikia is not accessible if you've made further modifications. Remove the custom ad blocker rule(s) and the page will load as expected.