Ad blocker interference detected!
Wikia is a free-to-use site that makes money from advertising. We have a modified experience for viewers using ad blockers

Wikia is not accessible if you've made further modifications. Remove the custom ad blocker rule(s) and the page will load as expected.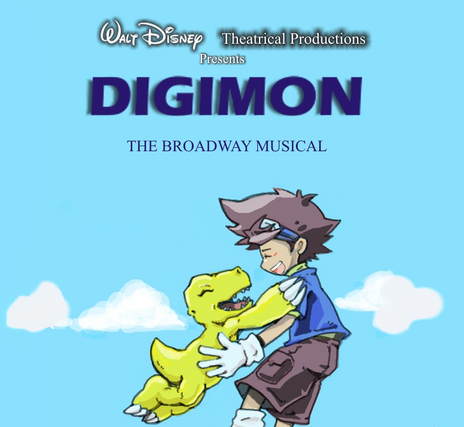 Digimon
is Broadway Family Musical Comedy in Three Acts with Music by
Stephen Sondheim
and Lyrics by
Tim Rice
.
Adolph Green
and
Betty Comden
wrote the Musical's Book together. Based on the
Japanese Media Franchise of the same name
and the
hit Anime series
by
Akiyoshi Hongo
and
Eric Goldberg
, the DigiDestined go on a Treasure Hunt to find the fabled Treasure of a mysterious Pirate Captain named Menkenmon.
The Musical opened on Broadway in 1999. It won the 1999 Tony Award for Best Musical. It is one of the longest running Show in Broadway History
The Show is produced by Disney Theatrical, New Line Entertainment, Fox Kids and Toei Animation.
By 2012, it had been seen by over 130 million people in 145 cities in 27 countries and continues to play in both New York, London, Auckland and Los Angeles.
Background
Alan Menken and Howard Ashman payed homage to the Broadway Musicals starting with Princess Karaoke. After winning an Emmy and Annie for their song Mimi's Song, Menken and Ashman convinced Akiyoshi Hongo and Eric Goldberg to turn their Anime and Franchise into a Stage Musical. Stephen Sondheim and Tim Rice discussed writing the Songs for Digimon. Adolph Green and Betty Comden agreed to write the Book for the Stage.
Plot
The Story tells about the DigiDestined going on a Treasure Hunt to find the Treasure of the Legendary Digimon named "Menkenmon".
Act 1
Act 2
Act 3
Musical Numbers
The Songs are composed by Stephen Sondheim and written by Tim Rice.
Act 1
Overture -- Orchestra
"Wish You Were Here" -- Company
"The Treasure of Menkenmon" -- Gennai, Menkenmon, Pirates and Captain Hook
"Fish Net" -- Gomamon, Joe and Fish
"Wash, Wash, Wash Away" -- Mimi, Palmon and Company
"Hocus Pocus" -- Palmon and Iago
"The Croc is after the Hook" -- Mr. Smee, Noodler, Mr. Starkey and Captain Hook
"Sora's Song" -- Sora
"Smee, Noodler, Igor and Mr. Starkey's Song" -- Mr. Smee, Noodler, Igor and Mr. Starkey
"Princess Mimi" -- Company
"Humiliate the Boy" -- Dr. Frankenstein, Mr. Smee, Igor, Noodler, Mr. Starkey, Captain Hook and Jafar
"In the Heart of Myself" -- Company
Act 2
Entr'acte -- Orchestra
"Why me?" -- Jafar
"The Greatest Creation of all time" -- Dr. Frankenstein and Igor
"Prodigious" -- Izzy, Chico and Tentomon
"Jesting Fool" -- Gomamon and Tentomon
"I Can't Believe My Heart" -- Kari and T.K.
"Sora's Song (Reprise)" -- Sora
"Sneaky Cats" -- Joe and Mimi
"The Jazz King" -- Matt
"We'll be the Best of Friends" -- T.K., Harpo, Kari, Gummo, Patamon and Gatomon
"I Can't Believe My Heart (Tai and Sora's Version)" -- Sora and Tai
"Everything is Lost" -- Sora
Act 3
Entr'acte -- Orchestra
"This is your last chance" -- Dr. Frankenstein, Captain Hook and Jafar
"Nobody can do the way i do" -- Tai
"You will never stop me" -- Jafar
"We Can't Believe It" -- Agumon and Biyomon
"Captain Hook's Song" -- Captain Hook and Pirates
"Magic Powers" -- Jafar and Dr. Frankenstein
"Menkenmon's Revenge" -- Menkenmon
"Tick Tock, the Crocodile" -- Company
"Dreams Do Come True" -- Tai and Sora
"Digimon are the Champions" -- Company
Finale -- Orchestra
Awards
Original Broadway Production
Tony Awards