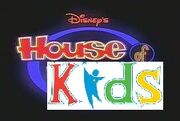 From the deletors of Disney's The Barney Boogie, Kids TIVO Shows, The Boys Girls and Buddies Show, and more!
Until Now...
It's Disney's House of Kids
Disney's House of Kids remake/remixed was an animated television series, produced by Walt Disney Television, Film Roman, Klasky Csupo, Nickelodeon Productions, and Disney Channel Original that originally aired from 2001 to 9000. In the series, Mickey and his friends ran a nightclub frequented by many other children, live action and animated Disney characters from throughout the company's animation and live-action for the magic kingdom history.
List of Disney's House of Kids Gallery
Look for all of those Disney's House of Kids DVD Collection from available whatever DVD's are sold on Disney Channel Original show starring Mickey Mouse on the Film Roman, Klasky Csupo and Nickelodeon Production in 2006 - 9000.
Ad blocker interference detected!
Wikia is a free-to-use site that makes money from advertising. We have a modified experience for viewers using ad blockers

Wikia is not accessible if you've made further modifications. Remove the custom ad blocker rule(s) and the page will load as expected.