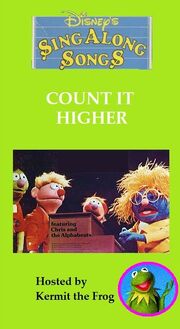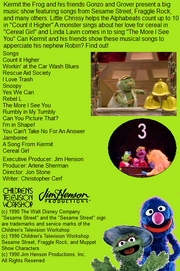 Disney Sing Along Songs: Count it Higher
is a Sing Along video released in 1990 hosted by Kermit the Frog. In this video, Kermit hosts a music show as he shows his nephew Robin about songs in his days with a little help from his friends, Gonzo, Grover, Scooter, and Prairie Dawn, meanwhile Marvin Suggs constantly annoys Kermit about having a number on the show. This was released around March of 1990, marking one of Jim Henson's last performances as Kermit before his death. Just follow Mickey on the bouncing ball. When it was re-released on DVD in 2003, it included a commentary by Christopher Cerf and Frank Oz
Songs
Disney's Sing Along Songs Theme Song
Count it Higher (from Sesame Street)
Workin' At the Car Wash Blues (from The Muppet Show)
Rescue Aid Society (from The Rescuers)
I Love Trash (from Sesame Street)
Snoopy (from It's Flash Beagle, Charlie Brown!)
Yes We Can (from "All Work and All Play")
Rebel L (Sesame Street)
Witch Doctor (from Ther Muppet Show)
The More I See You (from The Muppet Show)
Rumbly in My Tumbly (from The Many Adventures of Winnie the Pooh)
Can You Picture That? (from The Muppet Movie)
I'm in Shape! (from It's Flash Beagle, Charlie Brown!)
You Can't Take No For An Answer (from The Muppets Take Manhattan)
Jamboree (from The Muppet Show)
A Song From Kermit (from Sesame Street)
Yes, We Have No Bananas (from The Muppet Show)
Cereal Girl (Sesame Street)
Characters
Linking Footage
Kermit the Frog, Robin the Frog, Gonzo, Grover, Scooter, Prairie Dawn, Frog Scouts, Anything Muppet Kids, Honkers, Dr. Teeth, Oscar the Grouch, Zoot, Anything Muppet Parents, Chickens, Rowlf the Dog, Little Chrissy, Barkley, Marvin Suggs, Statler and Waldorf
Inserts
Little Chrissy, Alphabeats, Gonzo, Chickens, Bernard, Miss Bianca, Mr. Chairman, Oscar the Grouch, Snoopy, Sally Brown, Architect Doozer, Wrench Doozer, Cotterpin Doozer, Billy Idle, Rebel L, Dr. Teeth, Animal, Floyd Pepper, Janice, Zoot, Winnie the Pooh, Fozzie Bear, Scooter, Kermit the Frog, Peppermint Patty, Charlie Brown, Schroeder, Lucy van Pelt, Linus van Pelt, Rowlf the Dog, Miss Piggy, Camilla, Cow, PIgs, Snakes, Moose, Penguins, Cereal Girl, Nigel, Trumpet Girl, Anything Muppets, Witch Doctor, Singing Food, Muppaphones, Marvin Suggs
Credits
Written by: Christopher Cerf
Segment Writers: David Axlerod, Dennis Lee, Jeff Moss, Cathi Rosenberg-Turow
Directed by: Jon Stone
Segment Directors: Peter Harris, David Heeley, Robert Myhrum, Jim Henson
Producer: Arlene Sherman
Executive Producer: Jim Henson
With the Talents of: Caroll Spinney as Oscar the Grouch, with Frank Oz, Dave Goelz, Jerry Nelson, Richard Hunt, Martin P. Robinson, Kevin Clash, Camille Bonora, David Rudman, Fran Brill, Jeff Moss, Christopher Cerf, Bernard Fox, Bob Newhart, Robie Lester, Desiree Goyette, Joey Scarbury, Bill Melendez, Stacy Ann Ferguson, Steve Whitmire, Kathryn Mullen,  Pam Arciero, Fred Garbo, Bryant Young, Rick Lyon, Jim Martin, Sebastian Cabot, Sterling Holloway, Gini Holtzman, Brett Johnson, Marilyn Sokol, Ivy Austin, John Lovelady, Jim Kroupa, Louise Gold. and Jim Henson
Special Guest: Linda Lavin
Songs - "Count it Higher" Music and Lyrics by: Christopher Cerf
"Workin' At the Car Wash Blues" Music and Lyrics by: Jim Croce
"Rescue Aid Society" Music by: Carol Connors, Lyrics by: Ayn Robbins
"I Love Trash" Music and Lyrics by: Jeff Moss
"Snoopy" Music and Lyrics by: Ed Bogas and Desiree Goyette
"Yes We Can" Music by: Philip Balsam, Lyrics by: Dennis Lee
"Witch Doctor" Music and Lyrics by: Ross Bagdasarian, Sr.
"Rebel L' Music by: Christopher Cerf, Lyrics by: Sarah Durkee
"The More I See You" Music by: Harry Warren, Lyrics by: Mack Gordon
"Rumbly in My Tumbly" Music and Lyrics by: Richard M. Sherman and Robert B. Sherman
"Can You Picture That?" Music by: Paul Williams, Lyrics by: Kenny Ascher
"I'm in Shape!" Music by: Desiree Goyette, Lyrics by: Christopher Cerf
"You Can't Take No For An Answer" Music and Lyrics by: Jeff Moss
"Jamboree" Music by: Larry Grossman, Lyrics by: Frank Oz
"A Song From Kermit" Music by: Sam Pottle, Lyrics by: David Axlerod
"Yes, We Have No Bananas" Music and Lyrics by: Irving Cohn and Frank Silver
"Cereal Girl" Music by: Cheryl Hardwick, Lyrics by: Cathi Rosenberg-Turow
Muppets, Costumes, and Props by: Caroly Wilcox with Richard Termine, Kermit Love, Paul Hartis, Barry Link, Tim Miller, Rollin Krewson, Stephen Rotondaro, and Mark Zeszotek
Production Designer: Victor DiNapoli
"Peanuts" characters appear courtesy of United Feature Syndicate
Special Thanks to: Sharon Lerner, Al Hyslop, Jocelyn Stevenson, David Lazer, Tim Carter, Frieda Lipp
Notes
The entire framing material takes place out in the arbor on Sesame Street
Instead of the usual Sing Along Songs background, The Muppet Show Season 3 closing footage was used instead at the end, eventually leading to the comment from the Kaye Ballard episode. Rowlf: "Well, you must admit, Nigel, this does sound a little square." Nigel: "Play, hound! Play!"
Song Gallery
Ad blocker interference detected!
Wikia is a free-to-use site that makes money from advertising. We have a modified experience for viewers using ad blockers

Wikia is not accessible if you've made further modifications. Remove the custom ad blocker rule(s) and the page will load as expected.