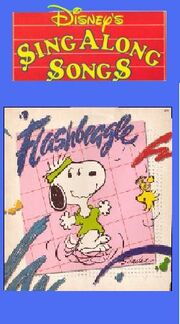 Disney Sing Along Songs: FlashBeagle is a release of Disney Sing Along Songs from 1989. Grover hosts a Rock and Roll show and talks about how FlashBeagle became famous and Kermit the Frog and Prairie Dawn make visits, while the Two-Headed Monster try to cooperate showing the songs through the control room. Hosted by: Grover (Frank Oz) It was later re-released in 1997 on VHS and 2003 on DVD from Sony Wonder, and then 2008 with bonus songs. Both re-releases featured a audio commentary by Christopher Cerf, Frank Oz, and Desiree Goyette
Songs
1. FlashBeagle (From It's Flashbeagle, Charlie Brown)
2. Doo Wop Hop (From Sesame Street)
3. Music Makes Us Real (From Fraggle Rock)
4. I'm in Shape (From It's Flashbeagle, Charlie Brown)
5. My Home (From Sesame Street)
6. Hip Hip Pooh-Ray (From Winnie the Pooh and the Blustery Day)
7. Healthy Food (from Sesame Street)
8. Let's Have A Party (Theme from The Charlie Brown and Snoopy Show)
9. Movin' On (From Sesame Street)
10. Lucy Says (From It's Flashbeagle, Charlie Brown)
11. Rumble Bug Hum (From "All Work and All Play")
12. Count it Higher (From Sesame Street)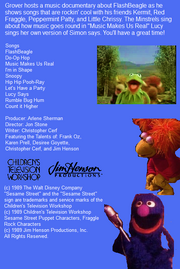 13. FlashBeagle reprise
Bonus Songs from DVD
1. Joe Cool
2. Take Care of Your Hair
3. Pre-School Musical
4. Perfect Isn't Easy (from Oliver and Company)
Previews
1989 and 1990 Opening
1. Red Orange FBI Warnings
2. Disneyland 35 years logo (only on 1990 release)
3. Walt Disney Home Video presents Logo
4. Children's Television Workshop 1983 Logo
5. Jim Henson Productions Logo
6. Title Card
7. Disney Sing Along Songs intro
1989 and 1990 Closing
1. Credits
2. Disney Sing Along Songs promo (Different version for different releases)
1994 Opening
1. Green FBI Warnings
2. Now Available to Own on Videocassette
3. Billy Bunny's Animal Songs preview
4. The Great Muppet Caper preview
5. Feature Program
6. Walt Disney Home Video logo
7. Children's Television Workshop 1983 Logo
8. Jim Henson Productions Logo
9. Title card and intro
1994 Closing
1. credits
3. Disney Sing Along Songs preview
Characters
Linking Footage
Grover, Kermit the Frog, Prairie Dawn, Count von Count, Two-Headed Monster, Robin the Frog, and Anything Muppet DJ
Inserts
Snoopy, Franklin, Kermit the Frog, The Moo Wave, Little Bird, Cantus the Minstrel, Murray the Minstrels, Brio the Minstrel, Balsam the Minstrel, Brool the Minstrel, Mokey Fraggle, Gobo Fraggle, Red Fraggle, Wembley Fraggle, Boober Fraggle, Peppermint Patty, Lucy van Pelt, Linus van Pelt, Schroeder, Sally Brown, Tigger, Christopher Robin, Eeyore, Owl, Kanga, Winnie the Pooh, Piglet, Rabbit, Gopher, Cookie Monster, Singing Food, Marcie, Frieda, Rerun van Pelt, Cotterpin Doozer, Rumblebugs, Little Chrissy, Alphabeats, Anything Muppets
Credits
Written by: Christopher Cerf
Segment Writers: Dennis Lee, Cathi Rosenberg-Turow, Luis Santeiro, Norman Stiles
Directed by: Jon Stone
Segment Directors: George Bloomfield, Jim Henson, Sam Jaimes, Bill Melendez, Emily Squires
Producer: Arlene Sherman
Executive Producer: Jim Henson
With the Talents of: Frank Oz as Grover with Jerry Nelson, Richard Hunt, Martin P. Robinson, Kevin Clash, Fran Brill, David Rudman, Camille Bonora,  Christopher Cerf, Pam Arciero, Joey Scarbury, Desiree Goyette, Ivy Austin, Cheryl Hardwick, Kathryn Mullen, Steve Whitmire, Tim Gosley, Terry Angus, Karen Prell, Dave Goelz, Gini Holzman, Brett Johnson, Stacy Ann Ferguson, Jessica Lee Smith, Paul Winchell, Howard Morris, John Fiedler, Rick Lyon, Jim Martin, Noel MacNeal, Jim Kroupa, Cheryl Blaylock, Ed Christie, Michael Huston, Brian Muehl, Jeff Moss, Yvonne Lewis, Tish Sommers, Bill Melendez, and Jim Henson
Songs - "FlashBeagle" Music and Lyrics by: Ed Bogas and Desiree Goyette, Special Lyrics by: Christopher Cerf
"Doo Wop Hop" Music by: Christopher Cerf, Lyrics by: Norman Stiles
"Music Makes Us Real" Music by: Philip Balsam, Lyrics by: Dennis Lee
"I'm in Shape" Music by: Desiree Goyette, Lyrics by: Christopher Cerf
"My Home" Music by: Joe Raposo, Lyrics by: Luis Santeiro
"Hip Hip Pooh-Ray" Music and Lyrics by: Richard M. Sherman and Robert B. Sherman
"Healthy Food" Music and Lyrics by: Christopher Cerf
"Let's Have a Party" Music and Lyrics by: Ed Bogas and Desiree Goyette
"Movin' On" Music by: Joe Raposo, Lyrics by: Cathi Rosenberg-Turow
"Lucy Says" Music by: Christopher Cerf, Lyrics by: Desiree Goyette
"Rumble Bug Hum" Music by: Philip Balsam, Lyrics by: Dennis Lee
"Count it Higher' Music and Lyrics by: Christopher Cerf
Production Designer: Victor DiNapoli
Muppets, Costumes, and Props by: Caroly Wilcox with Kermit Love, Paul Hartis, Barry Link, Mark Zeszotek, Richard Termine, Stephen Rotondaro, Peter MacKennan, and Connie Peterson
"Peanuts" characters appear courtesy of United Feature Syndicate
Special Thanks to: Sharon Lerner, Al Hyslop, Jocelyn Stevenson, Samuel Y. Gibbon, Jr., Frieda Lipp
Trivia
This is the first Disney SAS to feature Peanuts songs. The next 2 are You're A Good Man, Charlie Brown, and The Big Bow Wow.
The original video release came with a lyric poster with illustrations by Joe Mathieu.
Most of the songs were produced in 1984, the only three exceptions were "Hip Hip Pooh-Ray," "Movin' On," "Count it Higher", and "Healthy Food"
According to Kermit, his favorite game is "Simon Says"
Throughout the video, Prairie Dawn wears a rainbow colored sweater that she wore in the sketch where the Count and Countess watched "Twenty-Something"
The Anything Muppet Disc Jockey in this video was performed by Kevin Clash, assisted by David Rudman.
The two songs "Home to Me" and "Movin' On" would later air frequently on Play With Me Sesame.
This is the only Disney Sing-Along Songs video to feature the Two-Headed Monster.
This was filmed on July 4, 1989 and released September 23, 1989.
Song Gallery
Ad blocker interference detected!
Wikia is a free-to-use site that makes money from advertising. We have a modified experience for viewers using ad blockers

Wikia is not accessible if you've made further modifications. Remove the custom ad blocker rule(s) and the page will load as expected.