Dodrio
(Dod)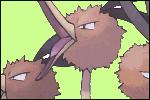 Desempenho
Lutas Oficiais
3
Vitórias
0
Derrotas
3
Aproveitamento
0%
Associado(a) à:
Pidgs and Dods

Dodrio foi um dos participantes do Blast Battle. Chegou a ter certa popularidade na época da Guerra entre Plus e os Noobs. Participou de três edições do torneio.
História
Pré Blast Battle e vida pessoal
Dodrio era ignorado por muitos no inicio do torneio. Suas primeiras aparições foram fora do Blast Battle. Tentava contato em vão com Pedro Meowth por recados, e era excluido entre os demais. Após entrar no Blast Battle, fez amizade com Pidgeotto, e foi um dos coadjuvantes na Primeira Guerra do Blast Battle, apesar do mesmo negar que participou da guerra e garantir ser neutro.
Blast Battle III
Dodrio começou no Blast Battle III, com nenhuma experiencia a não ser a de uns amistosos não-oficiais. Ele foi eliminado logo na primeira fase, pelo lutador Duskull, más fez uma boa luta. E prometeu adquirir técnicas e mais habilidade para lutar nas próximas edições do torneio.
Blast Battle Tag!
No Blast Battle Tag!, Ele fez dupla com Pidgeotto, parecia ser uma boa dupla, mas perderam na primeira fase contra Staraptor e Nyno Luxray. Fizeram uma luta confusa, e Pidgeotto, que era sua dupla, não ajudou muito em campo.
Blast Battle IV
Dodrio participou tbm do Blast Battle IV. Onde teve a sua terceira derrota em todo o Blast Battle na Primeira fase contra Mudkip. Houve uma votação para ver quem seria repescado, porém Dodrio infelizmente não conseguiu. E a participação dele no Blast Battle IV acabava por alí. Dodrio não permaneceu ativo no Blast Battle, e nem voltou a participar no Blast Battle V.
Habilidades
Ad blocker interference detected!
Wikia is a free-to-use site that makes money from advertising. We have a modified experience for viewers using ad blockers

Wikia is not accessible if you've made further modifications. Remove the custom ad blocker rule(s) and the page will load as expected.