This article is about the actor. For the Muppet, see
Don Music
.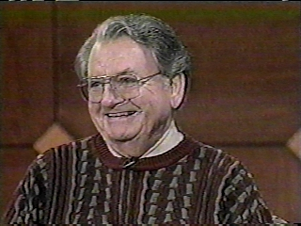 Donald Earl "Don" Messick
(September 7, 1926 – October 24, 1997) was an American voice actor best known for his work for Hanna-Barbera.
He voiced Scooby-Doo on Scooby-Doo, Papa Smurf on The Smurfs, Boo Boo Bear and Ranger Smith on Yogi Bear, Muttley, Gravel Slag, Little Gruesome, Professor Pat Pending, Ring-a-Ding and Sawtooth on Wacky Races, Muttley, Zilly, and Klunk on Dastardly and Muttley, Snoozy, Zippy, Dum-Dum and Pockets on The Perils of Penelope Pitstop, He-Man on the Masters of the Universe Golden Book video, Ratchet, Gears, and Construction Scavenger on Transformers, Louie and Snichey on the Pound Puppies TV special, King Klutzes on Fantastic Max, and Hamton J. Pig on Tiny Toon Adventures.
Messick suffered a second stroke and died on October 24, 1997. He was cremated. His ashes were scattered into the Pacific Ocean at the Point Lobos State Reserve.
Since Messick's death, Scott Innes and Frank Welker have both played the role of Scooby-Doo.
A year later in 1998, the film Scooby Doo on Zombie Island was dedicated to his memory.
Ad blocker interference detected!
Wikia is a free-to-use site that makes money from advertising. We have a modified experience for viewers using ad blockers

Wikia is not accessible if you've made further modifications. Remove the custom ad blocker rule(s) and the page will load as expected.