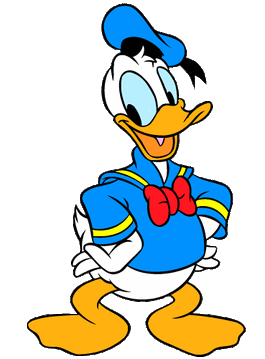 Donald Duck
is a character from
Mickey Mouse
.
Counterparts (Mickey Mouse/House of Mouse Version) (Do not delete, but you can add)
James, Percy, Thomas, Henry, Gordon, Duck, Donald, Toby, or Fergus (Thomas the Tank Engine and Friends)
Emery or Brewster (Chuggington)
Oogtar, Wario, Yoshi, Luigi, Mario, Toad, or Diddy Kong (Super Mario Bros.)
Antoine D'Coolette, Big the Cat, Knuckles the Echidna, Miles "Tails" Prower, or Sonic the Hedgehog (Sonic the Hedgehog)
Jeffy, Chef Pee Pee, Bowser Junior or Toad (SML)
Bart Simpson, Moe Syzlak, Lenny Leonard, Barney Gumble, Homer Simpson, or Milhouse Van Houten (The Simpsons)
Glenn Quagmire, Joe Swanson, Peter Griffin, or Neil Goldman (Family Guy)
Trini Kwan, Aisha Campbell, Billy Cranston and Zack Taylor (Mighty Morphin Power Rangers)
Tokkori, Tuff, Knuckle Joe, or Kirby (Kirby)
Candace Flynn, Jeremy Johnson, Ferb Fletcher, Phineas Flynn, or Perry the Platypus (Phineas and Ferb)
Noah, Trent, Tyler or Cody (Total Drama)
AJ, Chester or Timmy Turner (The Fairly OddParents)
Rocky the Lebanese Rambo, Bobo Gigliotti, Pauly Falzoni, Junior, Ronnie McDoggle (from Freaky Pizza), Aussie Pub Guy, Davo Dinkum, Kev the Kiwi, DJBJ, Lifesaver Les or Dr. Freeman (Fat Pizza)
Eddy, Kevin, or Edd (Ed, Edd n Eddy)
Benson or Rigby (Regular Show)
Rocky Robinson, Banana Joe, Mr. Gaylord Robinson, or Marvin (The Amazing World of Gumball)
Skatch the Dumper (Construction Site)
Grover, Bert, Elmo, Telly Monster, Ernie, or Snuffy (Sesame Street)
Tom Cat or Nibbles (Tom & Jerry)
Yamato (Digimon Adventure)
Counterparts (DuckTales Version)
COMING SOON
Parodies
Gallery
Ad blocker interference detected!
Wikia is a free-to-use site that makes money from advertising. We have a modified experience for viewers using ad blockers

Wikia is not accessible if you've made further modifications. Remove the custom ad blocker rule(s) and the page will load as expected.