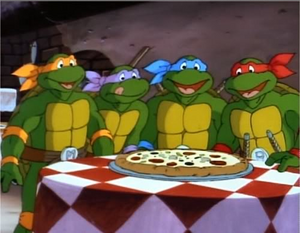 Donatello
is a character from
Teenage Mutant Ninja Turtles
.
Counterparts[edit]
Beefy Bert (Horrid Henry)
Gerald Johanssen (Hey Arnold)
Skeeter (Doug)
Toby Duncan (Good Luck Charlie)
Oliver (Oliver and Company)
Bambi (Bambi)
Happy (Snow White and the Seven Dwarfs)
Pinocchio (Pinocchio)
Dumbo (Dumbo)
Michael Darling (Peter Pan)
Young Simba (The Lion King)
Stan Marsh (South Park)
Chum Chum (Fanboy and Chum Chum)
Numbuh 4 (Codename: Kids Next Door)
Clockwork Mouse (Noddy's Toyland Adventures)
Heimlich (A Bug's Life)
Mo (WALL-E)
Dr. N Gin (Crash Bandicoot)
Scrappy Doo (Scooby Doo)
Carl Wheezer (Jimmy Neutron)
Trigger Happy (Skylanders)
Hwoarang (Tekken)
Krillin (Dragon Ball Z)
Rodan (Godzilla)
? (Star Wars)
 ==Counterparts (Girl Version)[edit]==
Irma (Teenage Mutant Ninja Turtles)
Cream the Rabbit (Sonic the Hedgehog)
Penny Ling (Littlest Pet Shop)
Fifi La Fume (Tiny Toon Adventures)
Kimi Finster (Rugrats)
Pistol Pete (Goof Troop)
Numbuh 3 (Codename: Kids Next Door)
Khannie (The Wacky Word of Tex Avery)
Draculaura (Monster High)
Abby Cadabby (Sesame Street)
Cadpig (101 Dalmatians: The Series)
Gallery
Ad blocker interference detected!
Wikia is a free-to-use site that makes money from advertising. We have a modified experience for viewers using ad blockers

Wikia is not accessible if you've made further modifications. Remove the custom ad blocker rule(s) and the page will load as expected.