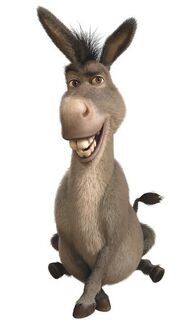 Donkey is the deuteragonist of Shrek. He is a hyperactive animal ungulate of the same name and Shrek's best friend.
Counterparts
Hank, Foduck, or Theodore (Theodore Tugboat)
Yoshi, Oogtar or Mario (Super Mario Bros.)
Kyle Broflovski, Kenny McCormick, Eric Cartman, or Butters Scotch (South Park)
Pluto, Donald Duck, or Mickey Mouse (Mickey Mouse/Mickey Mouse Works)
Scooby Doo, Robin, or Shaggy Rogers (Scooby Doo)
Clockwork Mouse (Noddy's Toyland Adventures)
Rallo (The Cleveland Show) 
Luther (Freddi Fish) 
DJBJ, Sleek the Elite or Habib (Fat Pizza)
Darwin Watterson, Banana Joe, or Gumball Watterson (The Amazing World of Gumball; the litter are best friends to Shrek and Gumball)
Rebound (Pound Puppies)
Butch, Brick, or Boomer (The Powerpuff Girls/Powerpuff Girls Depressed)
Michelangelo (Teenage Mutant Ninja Turtles)
Buddy, Reilly, or Elliot (Open Season 1, 2, & 3)
Gallery
Ad blocker interference detected!
Wikia is a free-to-use site that makes money from advertising. We have a modified experience for viewers using ad blockers

Wikia is not accessible if you've made further modifications. Remove the custom ad blocker rule(s) and the page will load as expected.