Doom Overlord is a fan made character and the new final boss from Duke Nukem 3D.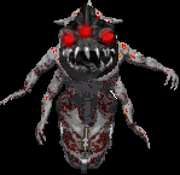 Counterparts
Diesel 10 or Steam Engine (Thomas the Tank Engine and Friends)
Smelter X (TUGS, fan made)
Yami (Theodore Tugboat)
Lord Dregg (Teenage Mutant Ninja Turtles)
Mephiles the Dark (Sonic the Hedgehog)
Galactus (Marvel)
Orochi (The King Of Fighters)
Jinpachi Mishima, True Ogre or Azazel (Tekken)
Cyclopsis (Power Rangers)
Barney (Jihad to Destroy Barney)
Shinnok (Mortal Kombat)
iMustDestroyAll (Angry Grandpa)
Ad blocker interference detected!
Wikia is a free-to-use site that makes money from advertising. We have a modified experience for viewers using ad blockers

Wikia is not accessible if you've made further modifications. Remove the custom ad blocker rule(s) and the page will load as expected.