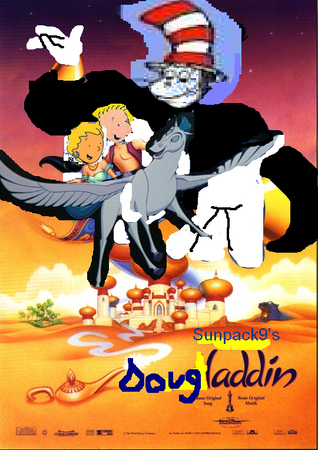 This is my own another movie spoof of "Aladdin

Here's the cast:
Aladdin- Doug Funnie (Doug)
Jasmine- Patti Mayonnaise (Doug)
Genie- Cat in the Hat (Dr.Seuss's the Cat in the Hat Living Books Series & TV Special )
Jafar- Tzekel-Kan (Road to El Dorado)
Iago- Bluebeard (Felidae)
Abu- Porkchop (Doug)
Sultan- Noah (El Arca aka. Noah's Ark)
Rajah- Santa's Little Helper (The Simpsons)
Peddler- Butch Dog (Droopy)
Gazeem the Thief- Wile E. Coyote (Looney Tunes)
Razoul- Martian General (Duck Dodgers)
Old Man Jafar- Grandpa Phil (Hey Arnold)
Carpet- Pegasus (Hercules)
Abu as Elephant- Horton (Horton Hears a Who)
Razoul's Guards- Ultimate Sentimental Aliens (Ben 10 Ultimate Alien)
Woman at the Window- Grandma Thora (Arthur)
Three Balcony Harem Girls- Diana (Martin Mystery), Olga (Hey Arnold) and Julie (Ben 10 Ultimate Alien)
Three Balcony Harem Girls' Mother- Naama (El Arca aka. Noah's Ark)
Two Hungry Children- Brother and Sister Bear (Berenstain Bears)
Prince Achmed- Guy Graham (Doug's 1st Movie)
Farouk; Apple Seller- Mr. Barkin (Kim Possible)
Laddie Dog Genie- Pongo (101 Dalmatians)
Camel Abu- Camel (Little Beau Porky)
Duck Abu- Daffy Duck (Looney Tunes)
Car Abu- Lightning McQueen (Cars)
Gigantic Genie- Tom as Were-Cat (Tom and Jerry Tales)
Snake Jafar- Cy-bug King Candy (Wreck-It-Ralph)
Genie Jafar- Rhinoceros Guards (Tangled)
Rajah as Cub- Toto (Tom and Jerry the Wizard of Oz)
Cheerleader Genies- Terk & Friends (Tarzan) during trashin' the camp scene
The Cave of Wonders- The Great Owl (The Secret of Nimh)
Ad blocker interference detected!
Wikia is a free-to-use site that makes money from advertising. We have a modified experience for viewers using ad blockers

Wikia is not accessible if you've made further modifications. Remove the custom ad blocker rule(s) and the page will load as expected.