Ad blocker interference detected!
Wikia is a free-to-use site that makes money from advertising. We have a modified experience for viewers using ad blockers

Wikia is not accessible if you've made further modifications. Remove the custom ad blocker rule(s) and the page will load as expected.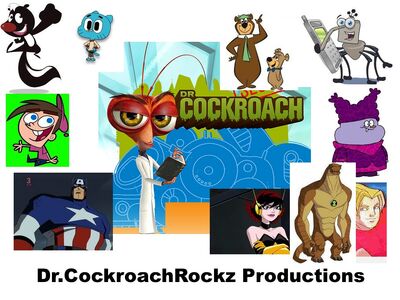 Dr.CockroachRockz
LIST OF MOVIES/VIDEO GAMES/TV SHOWS SO FAR
A Fairly Odd Movie: Grow Up Timmy Turner (CGI Cosmo and Wanda)
Flash Gordon: The Animated Series (1996)
Hey There, It's Yogi Bear!
Kung Fu Panda 2
Little Einsteins
Looney Tunes
Martin Mystery
Monsters Vs Aliens
Ozzy and Drix
Peppa Pig
Planet 51
Pokemon
Prince of Persia: The Sands of Time (2010)
The Amazing World of Gumball
The Avengers: Earth's Mightiest Heroes
The Super Hero Squad Show
A LIST OF PARODIES
MY FAVORITE CHARACTERS:
Dr. Cockroach (Monsters Vs Aliens)
Flash Gordon (Flash Gordon: The Animated Series)
Captain America and Wasp (he Avengers: Earth's Mightiest Heroes) (Dr. Cockroach's Girlfriend)
Ben Tennyson and Humungousaur (Ben 10 Alien Force)
Java the Caveman (Martin Mystery)
John Carter
Yogi Bear and Boo Boo Bear