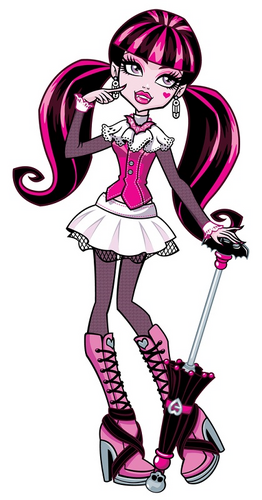 Draculaura
is the secondary lead protagonist and lead deutragonist from
Monster High
. She is voiced by Debi Derryberry.
Profile
Daughter of: Dracula
Age: 1,599 (In vampire years) (I can't wait for my Sweet 1600th)
Killer Style: My dad calls me Draculaura but to my friends I'm Ula D. I love to splash my black outfits with some cheery pink and I even carry a frilly umbrella so I can take an occasional walk in the sun.
Freaky Flaw: Since I can't see my reflection in a mirror, I have to leave the house not knowing if my clothes and makeup are just right. Of course after 1,599 years of practice I've gotten pretty good at it.
Pet: Count Fabulous is my BFF (Bat Friend Forever), he's a very proud and proper bat but I just can't help but dressing him in the cutest little outfits.
Favorite Activity: I love smiling, laughing, and encouraging my friends.
Biggest Pet Peeve: The lack of vegetarian selections in the Monster High™ creepateria is so sad.
Favorite Subject: Creative Writing. It gives me a chance to write sweet stories about my friends.
Least Favorite Subject: Geography. After 1,599 years I've been everywhere...twice.
Favorite Color: Pink
Favorite Food: I'm a vegetarian, no icky blood for me, so it's fruits, vegetables and a lot of iron supplements.
BFF's: Frankie Stein & Clawdeen Wolf
Quotes:
'It's the most romantic story ever told!'
Counterparts
Meg Griffin (Family Guy)
Irma (Teenage Mutant Ninja Turtles)
Mittens (Bolt)
Pinkie Pie (My Little Pony)
Ella (Total Drama)
Gallery
Ad blocker interference detected!
Wikia is a free-to-use site that makes money from advertising. We have a modified experience for viewers using ad blockers

Wikia is not accessible if you've made further modifications. Remove the custom ad blocker rule(s) and the page will load as expected.