Dragon King II is the sequel to the hit turn-based RPG for the NES.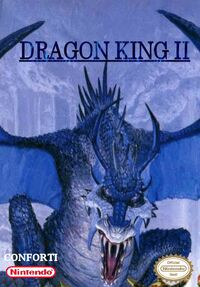 Plot
One-hundred years after the events of Dragon King, a young man by the name of Hero goes off to find the Crown of Dragons. His girlfriend is kidnapped and the crown is stolen by a Queen in an attempt to become the first female in charge of the crown. Hero goes across the lands finding people to help him defeat the Queen and save his girlfriend.
Improvements
There are some improvements over the last game, including a new summoning feature where you can summon monsters that you capture. The graphics are about the same as the first one as well.