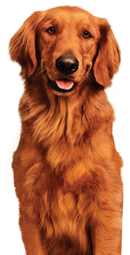 History of Duke
in 1995 the Bush's Baked Bean's company decided to make a series of commercials. The commercials would feature the antics of Duke the talking Golden Retriever. The company was originally going to use Jay Bush's real life Golden Retriever Duketo, however Duketo was camera shy, so another dog took his place in the commercials. Duke first made his debut in 1995, alongside his owner Jay Bush. (1&2)
Appearance
Duke is a reddish brown Golden Retriever. In a commercial released in 2017 entitled "Wild Side" Duke was featured wearing a black spiked collar,sunglasses, and presumably grew a beard.
Other one-time outfits:
A custom Bush's Baked Bean's football jersey, and black eyepaint.
In 2009 Duke dressed up in a outfit featuring a lab coat,glasses,and a moustache and a tag reading "Tailgate Research Institute.
A blue cooking outfit reading "Make Me An Offer" in bold white letters.
Persona
Duke is always inventing scheme's to try to find out the Secret Recipe of the Bean's. His schemes vary from dressing up in odd outfits, to making pigs fly. Nevertheless Duke is good at heart.
Commercial Appearance's
2017:
Merchandise
At the 1998 Animal Toy Fair a Duke plushie was released with a T-shirt that has the Bush's Baked Bean's Logo, as well as the company's motto "Roll that beautiful bean footage." on it. It appears to have been re-released in 2007.
Sources
Some info came from the following sites, but wasn't particularly paraphrased from them.
3. Images came from google images.
Gallery: