Dutch Girls Racing is a fan-fiction video game created by ChuggingtonFan2012. It will be released for the Wii, and comes packaged with the Wii Wheel.
The game announces that everything will return, like the karts from Mario Kart 7, the bikes from Mario Kart Wii, the Rocket Start from all games, and the custom menu from Mario Kart 7. 
Gameplay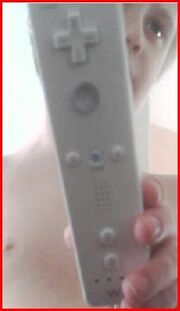 The game takes place on the Wii. It features seven players, like Isabella and Candace (from Phineas & Ferb), Ly (from Rayman), Coco Bandicoot (from Crash Bandicoot), and Peach, Daisy, and Birdo (from Mario). The player can use the Wii Remote with the Wii Wheel, the Wii Remote & Nunchuck, the Classic Controller, and the GameCube Controller.   
As in previous games, the player can race in a Grand Prix. The player can start a race by using a Rocket Start. He/she can avoid things on the track. The player can get to first place is the winner, so do not get hit by some items on the last lap.
This game features 32 racing courses. Six of them are new courses, while six of them are retro courses. The player can complete in first place in one of the courses. The player can do a Time Trial, with the most time wins the round. 
The 1-player battle and VS modes returns in this game. The player can battle in this mode with teams. The job is to fight balloons or collect coins in this mode.
This game supports up to two players in offline multiplayer mode, and up to seven players online in the Nintendo Wi-Fi Connection. Players race or battle in online mode. In the VS mode, players can race against each other or in a team. In the Battle mode, players fight in teams. Unlockables are not available in multiplayer mode only.
Characters
This game features 7 playable characters. They are only playable. Princess Daisy and Birdo are only playable for the second time. Second, the player can play as their Mii, which appeared in this feature.
Phineas & Ferb
Rayman
Crash Bandicoot
Mario
Courses
There are 32 courses in Dutch Girls Racing. Each track is part of a Grand Prix. This game features eight different Grand Prix, each features four tracks. Sixteen of those are new tracks, however the last sixteen are tracks from other games in this series.
Similar to this, there are eight battle courses, four are new courses and the other are retro courses.
New Courses (Nitro Grand Prix)
Retro Courses (Retro Grand Prix)
Battle Courses
See also
Ad blocker interference detected!
Wikia is a free-to-use site that makes money from advertising. We have a modified experience for viewers using ad blockers

Wikia is not accessible if you've made further modifications. Remove the custom ad blocker rule(s) and the page will load as expected.