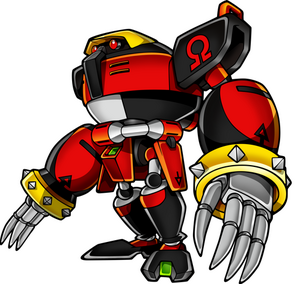 E-123 Ω Omega
is a character from the
Sonic the Hedgehog
video game series. He is the last and most advanced of the E-series robots. In
Sonic Heroes
, he wants revenge on Dr. Robotnik for sealing him in a room, where he is forced to guard Shadow the Hedgehog. After Rouge sets Shadow free, he agrees to join them in taking down Dr. Robotnik.
Video Game Appearances
Sonic Heroes (2004)
Shadow the Hedgehog (2005)
Sonic Chronicles: The Dark Brotherhood (2008)
Mario and Sonic at the Olympic Winter Games (2008)
Sonic Colors DS (2010)
Mario and Sonic at the London 2012 Olympic Games (2011)
Bio
Species: Anthropomorphic Sentient Robot
Armor Colors: Red, Black, and Yellow
Age: ?
Friends: Shadow the Hedgehog, Rouge the Bat
Enemies: Dr. Robotnik
Counterparts
Entei or Victrebell (Pokemon)
Pimply Paul (Horrid Henry)
Scooter (SpongeBob SquarePants)
Treble (Mega Man)
Silent B (Total Drama)
Chromedrome, Rex-1, or Monster of Doom (Teenage Mutant Ninja Turtles)
Arbormon (Digimon Frontier)
Francis (The Fairly Odd Parents)
Lugnut (Transformers Animated)
Drill-X, Bouncer, or Ghost Roaster (Skylanders)
Henchman 1000 (Rayman)
Lefou (Beauty and the Beast)
Wow Wee RoboSapien (SpinDashpro)
Flip's Cousin #3 (Maya the Bee)
Gallery
Ad blocker interference detected!
Wikia is a free-to-use site that makes money from advertising. We have a modified experience for viewers using ad blockers

Wikia is not accessible if you've made further modifications. Remove the custom ad blocker rule(s) and the page will load as expected.