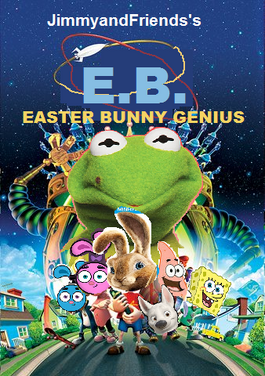 Jimmyandfriends's movie-spoofs of "Jimmy Neutron: Boy Genius"
Cast:
Jimmy Neutron - E.B. (Hop)
Carl Wheezer - Patrick Star (SpongeBob SquarePants)
Sheen Estevez - SpongeBob SquarePants
Cindy Vortex - Yin (Yin Yang Yo!)
Libby Folfax - Sandy Cheeks (SpongeBob SquarePants)
Nick Dean - Yang (Yin Yang Yo!)
Judy Neutron - Mother Rabbit (Robin Hood)
Hugh Neutron - Mr. Bunny (Hop)
Goddard - Bolt
King Goobot - Constantine (Muppets Most Wanted)
Ms. Winfred Fowl - Truffles (Chowder)
Ooblar - Sheldon J. Plankton (SpongeBob SquarePants)
Yokians - Pirate Muppets (Muppet Treasure Island)
Gallery
Ad blocker interference detected!
Wikia is a free-to-use site that makes money from advertising. We have a modified experience for viewers using ad blockers

Wikia is not accessible if you've made further modifications. Remove the custom ad blocker rule(s) and the page will load as expected.