Welcome to the EUIESW07 mini wiki at Scratchpad!
You can use the box below to create new pages for this mini-wiki. Make sure you type [[Category:EUIESW07]] on the page before you save it to make it part of the EUIESW07 wiki (preload can be enabled to automate this task, by clicking this link and saving that page. Afterwards, you may need to purge this page, if you still see this message).
HOLA A TOTS, JA TENIM WIKI DE ESW!!
08-01-07: AVIS
Dema Dimarts 9 de Gener estaría de putisima mare que vinguessim tots per mirar les classes que tinguem fetes, per unificar criteri, ja que moltes les reutilitzem obviament. També de programar-nos per l'entrega de dijous. Salut!!!
autor: Jordi
09-01-07: diag. classes (ana)
Al final no el vaig pnjar ahir pq hi he fet canvis:
09-01-07: DEP.VENTES (WEB) (Jordi)
Diagrames de secuencia i de classes tal com hem quedat aquest migdia: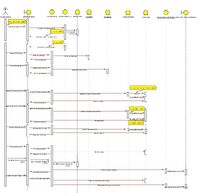 Faltaria veure com fer lo de la base de dades, jo ho he fet d'una manera (veure diag. secuencia)
10-01-07: DEP.VENTES (WEB) CLASES COMPARTIDES (Jordi)
Bueno va tomando forma la cosa. Haber que tal os parece ahora las clases. Creo que encajan perfectamente para el departamento de VENTAS, ENTREGAS y ALMACEN (espero).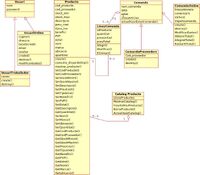 AVIs:DEMA DIJOUS
Dema intentarem quedar tots els que puguem a les 16. Si no podeu venir no pasa res, el cap de setmana els que puguem quedar tambe ho podrem fer. Es per anar liquidant. SALUT!!! ;)
DIAGRAMA SEQUENCIA ACTUALITZAR STOCK (ACTUALITZA UN USUARI, NO EL SISTEMA) (Ana)
Hola, aqui penjo el diagrama de sequencia de l'escenari "actualitzar stock manualment", perquè he vist els dubtes resolts del profe i en principi ha de quedar aixi no? es ben feo... aixo de que no hi hagi cap acció sobre les entitats, encara no em puc creure que sigui aixi, spero que l'home no akbi canviant d'idea. Siusplau, algú em pot dir si s'ha fet servir alguna classe per a temes d'stock o si us està bé així? de moment he afegit a la classe Producte la op. actualitzaStock(CodProducte, quantitat) i el camp stockActual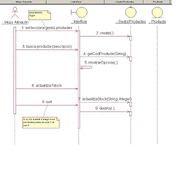 Diagrama AfegirNou producte:

Ad blocker interference detected!
Wikia is a free-to-use site that makes money from advertising. We have a modified experience for viewers using ad blockers

Wikia is not accessible if you've made further modifications. Remove the custom ad blocker rule(s) and the page will load as expected.