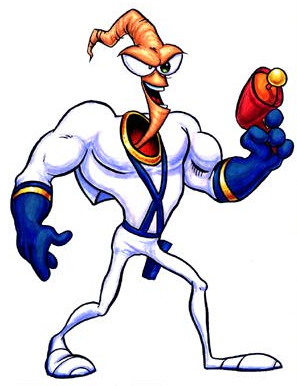 Earthworm Jim
is the titular protagonist of the
Earthworm Jim
video game series. He is an earthworm given artificial intelligence by a robot suit made by Professor Monkey-For-A-Head.
Bio
Species: Anthropomorphic Earthworm
Skin Color: Pink
Robot Suit Color: White
Friends: Peter Puppy, Princess What's-Her-Name, Snott
Enemies: Psycrow, Professor Monkey-For-A-Head, Evil the Cat, Queen Slug-For-A-Butt, Bob the Killer Goldfish, Evil Jim
Voice: Doug TenNapel (first two video games only), Dan Castellaneta (animated series, Clayfighter and EWJ 3D)
Counterparts

 WARNING: You may add appropriate counterparts. But, do NOT delete any.
Optimus Prime (Transformers)
Eugene H. Krabs (SpongeBob SquarePants, first three seasons only with a few good episodes from Season 4)
Stan Smith (American Dad)
Gallery