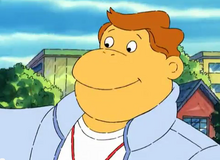 Ed Crosswire is a character from Arthur. He is the father of Muffy Crosswire.
Counterparts
James the Red Engine or Henry the Green Engine (Thomas the Tank Engine and Friends/The Railway Series)
Foduck or Digby (Theodore Tugboat)
Oogtar, Luigi, Diddy Kong, or Mallow (Super Mario Bros.)
Emery or Chatsworth (Chuggington) 
Chef Pee Pee, Jeffy, Mario, or Cody (SuperMarioLogan)
Bert, Grover, or Telly Monster (Sesame Street)
Drew Pickles or Chaz Finster (Rugrats)
Moe Syzlak or Barney Gumble (The Simpsons)
Eric Cartman, Kyle Brofloski, or Mr Mackey (South Park)
Dale Gribble or Kahn Souphanousinphone (King of the Hill, all three are rude)
Gene or Wreck-It Ralph (Wreck-it Ralph)
Mr. Plotz or Ralph (Animaniacs)
Ad blocker interference detected!
Wikia is a free-to-use site that makes money from advertising. We have a modified experience for viewers using ad blockers

Wikia is not accessible if you've made further modifications. Remove the custom ad blocker rule(s) and the page will load as expected.