Edd (A.K.A Double D) is one of the three main protagonists/the main deuteragonist of
Ed, Edd, n Eddy
. He is the weakest, but smartest of The Eds.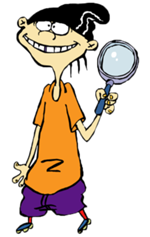 Counterparts
Do NOT delete, but you can add.
James, Edward, Thomas, Emily or Duck (Thomas the Tank Engine and Friends/The Railway Series)
Luigi, Mario, or Princess Peach (Super Mario Bros.)
Brainy Brian (Horrid Henry)
Brain or Arthur (Arthur)
Randy Marsh, Kyle Broflovski, or Stan Marsh (South Park)
Stu Pickles, Tommy Pickles, or Chuckie Finster (Rugrats/All Grown Up)
Buzz Lightyear, Rex or Woody (Toy Story)
Carl Karl, Ferb Fletcher, Phineas Flynn, or Baljieet Tjinder (Phineas and Ferb)
Squidward Tentacles, Stanley S. SquarePants, Sandy Cheeks or SpongeBob Squarepants (SpongeBob SquarePants)
Hugh Neutron, Jimmy Neutron, Carl Wheezer, or Sheen Estevez (Jimmy Neutron)
Kyle Bloodworth-Thomason, Fanboy, Yo or Chum Chum (Fanboy and Chum Chum)
A.J. or Timmy Turner (The Fairly OddParents)
Numbuh 2 or Numbuh 1 (Codename: Kids Next Door)
Noah or Cody (Total Drama)
The Brain (Pinky and the Brain) (Both are Intelligent)
Brian Griffin, Peter Griffin, or Glenn Quagmire (Family Guy)
Samson, Raj, or Lazlo (Camp Lazlo)
Piglet, Winnie The Pooh, or Christopher Robin (Winnie the Pooh)
Dad Asparagus, Junior Asparagus, or Bob the Tomato (VeggieTales)
Linus Van Pelt or Charlie Brown (Peanuts)
Pingo (Pingu)
Lubbock, Susanoo or Tatsumi (Akame ga kill)
Counterparts (SpongeBob's New Boat Version)

 WARNING: You may add appropriate counterparts. But, do NOT delete any.