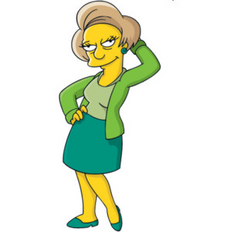 Edna Krabappel Flanders is a character from The Simpsons. She has been voiced by the late Marcia Wallace. She was a beautiful and sexy 4th grade teacher at Springfield Elementary School.
Biography in 1991
Edna Krabappel wears a green long-sleeved jacket, green-turquoise shirt and dark green high-heeled shoes and matching knee-length skirt.
Counterparts (Girl Version)
Counterparts (Boy Version)
See Also
Gallery
Ad blocker interference detected!
Wikia is a free-to-use site that makes money from advertising. We have a modified experience for viewers using ad blockers

Wikia is not accessible if you've made further modifications. Remove the custom ad blocker rule(s) and the page will load as expected.