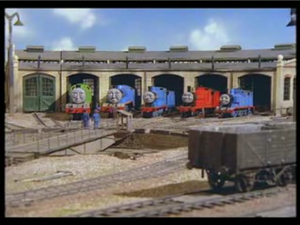 Edward And Gordon, Edward Helps Out in the U.S. is a Season 1 episode.
Plot
Edward is sad that he never goes out to shunt or pull freight cars. His driver understands so lights Edward's fire and drives out to pull some coaches. Later Edward sees Gordon pulling a goods train. Then Gordon gets stuck on a hill. Edward decides to help by pushing Gordon to the top. Later Edward is rewarded with a drink and a new coat of paint.
Narrator
Ringo Starr (UK/US)
George Carlin (US)
Michael Angelis (UK Coming in 2013)
Michael Brandon (US Coming in 2013)
Characters
Version 1
Thomas (cameo in original versions Thomas can speak coming in 2013)
Version 2
Thomas
Edward
Henry
Gordon
James
Percy
Toby
Bertie
Duck
Harold
Donald and Douglas
Mavis
Oliver
Bulgy
Stepney
Caroline
Bulstrode
Old Slow Coach
Tiger Moth
Thumper
The Boulder
Salty
Harvey
Elizabeth
Jack
Alfie
Farmer McColl
Emily
Fergus
Arthur
Molly
Neville
Dennis
Jeremy
Rocky
Rosie
Whiff
Hector
Billy
Hank
Colin
Flora
Stanley
Charlie
Sir Lowham Hatt
Scruff
Belle
Flynn
Den
Dart
Trivia
Because Gordon got stuck on the hill, the hill got named Gordon's Hill.
Thomas's name is used in Michael Brandon's and Michael Angelis' re-recorded narrations, but not in the original Ringo Starr or George Carlin versions.
Gellery
Ad blocker interference detected!
Wikia is a free-to-use site that makes money from advertising. We have a modified experience for viewers using ad blockers

Wikia is not accessible if you've made further modifications. Remove the custom ad blocker rule(s) and the page will load as expected.