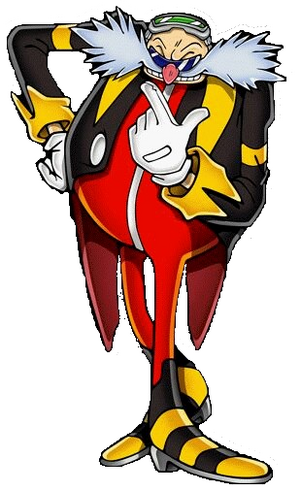 Dr. Eggman Nega
is Dr. Eggman's counterpart from the
Sol Dimension
. He is the arch-enemy of
Blaze the Cat
.
Video Game Appearances
Sonic Rush (2005)
Sonic Rush Adventure (2007)
Mario and Sonic at the Olympic Winter Games (2008)
Bio
Species: Anthropomorphic Human
Hair Color: White
Clothing: Red Jumpsuit, Black and Yellow Coat, Black and Yellow Boots, Green Goggles
Friends: Dr. Robotnik
Enemies: Blaze the Cat, Sonic the Hedgehog
Counterparts
Cyber Shredder,Rahzar, Fishface, Amok, or Oroku Yoshi (Teenage Mutant Ninja Turtles)
Quartzmon (Digimon Xros Wars)
Mr. Mxyptlk (Superman)
Captain Gutt (Ice Age)
Ice Devimon (Digimon)
Ein (Pokemon Orre Games)
Ghetsis's Boufflant (Pokemon Black and White)
Death Bringer (Golden Axe)
Ratorata (Beast Wars)
add more please
Ad blocker interference detected!
Wikia is a free-to-use site that makes money from advertising. We have a modified experience for viewers using ad blockers

Wikia is not accessible if you've made further modifications. Remove the custom ad blocker rule(s) and the page will load as expected.