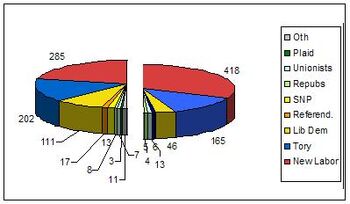 Electēa 1997
, entreu
Tōňa «am'-iōt» Blēra
ed
Xōa «iōs salvicaxa ē māt interesāt que iō» Mēxā
,
psepsą pena contresosiēma.
Regardōc tī bon't diferēa entreu vota inflatę pru Labora ed quōt şī meritą:
meritą 133 menāt que dę.170 plāsē ia są ūt partīdē «oþer»
Zuque Anglā asse 'na sistema represent'æ fa są Democrārē Lībērāt que desidą va elect'æ. fa są Democrārē Lībērāt que desidą va elect'æ. , comu PNE, i partida referend'æ. N'ūtrāt cosa notę ē que, 'naň sistema representāt, paritēa entreu Republicārē ed Unēārē Norirlāndaň ia stablę. Republicārē ą 'na meþa plāsē que Unēārē mu memāt numera votœ. Zūque nī ia ą Representēa Proportionāt, zēla Blēræ pru x'nationalēną ia pa moderę pru 'na coalesēa cu DD.LL.
Ad blocker interference detected!
Wikia is a free-to-use site that makes money from advertising. We have a modified experience for viewers using ad blockers

Wikia is not accessible if you've made further modifications. Remove the custom ad blocker rule(s) and the page will load as expected.