Elekible
(-)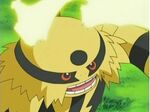 Desempenho
Lutas Oficiais
5
Vitórias
3
Derrotas
2
Aproveitamento
60%
Associado(a) à:
nenhuma associação

Elekible ou Elekiburu é um dos participantes do Blast Battle — Torneio Pokemon. Fez parte das duas primeiras edições do torneio.
História
Blast Battle I
No Blast Battle I, Elekible ja teve sua primeira batalha como uma das mais difíceis do torneio, enfrentou Dark Absol, e venceu. Sua segunda luta foi contra Joyce Entei, e como ela não compareceu à luta, Elekible venceu por W.O. e seguiu para a final contra Hitmontop, más não conseguiu ganhar e ficou apenas com o vice-campeonato.
Blast Battle II
Sua campanha na segunda edição foi menos plausível, na primeira fase enfrentou Manaphy, e venceu facilmente, mantendo seu favoritosmo. Na segunda fase enfrentou Munchlax, e depois de uma batalha disputada acabou perdendo, e encerrando sua participação na segunda fase.
Principais Habilidades
Ad blocker interference detected!
Wikia is a free-to-use site that makes money from advertising. We have a modified experience for viewers using ad blockers

Wikia is not accessible if you've made further modifications. Remove the custom ad blocker rule(s) and the page will load as expected.