Lorelei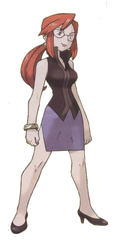 Arte de FireRed/LeafGreen
Nomes

| | |
| --- | --- |
| Nome Japonês | カンナ |
| Romaji | Kanna |
| Nome Definitivo | Lorelei |
Dados
Classe
Elite
Sexo
Feminino
Cidade
Floe Island
Região
Kanto
Tipo
Geração
I e III
Jogos
Red, Blue, Yellow, FireRed, LeafGreen, Stadium
Primeiro
episódio
The Mandarin Island Miss Match
Lorelei (Japonês: カンナ) é uma mestra do tipo Gelo.
No Anime
Enquanto em Mandarin Island, Ash descobriu que Lorelei também estava lá. Misty ficou animada por ser sua fã.
Apesar de Ash insistentemente desafiá-la para uma batalha, ela parece não notá-lo e não estar impressionada com suas habilidades.
Quando Lorelei finalmente aceitou batalhar, Ash foi massacrado. Lorelei disse que Ash tem potencial para se tornar grande, mas precisa encontrar mais força interior.
Lorelei parece estar sempre no mundo da lua.
Pokémon
Nos Jogos
Lorelei é a primeira treinadora da Elite dos Quatro de Kanto.
Lorelei é conhecida por seu estilo de luta lógico e calculado. Coleciona Bonecos Pokémon que guarda em sua casa na Floe Island. Misty é sua fã.
Sua Lapras, que capturou na Icefall Cave quando era criança, está sempre com ela. Em FR/LG, retorna a Floe Island para derrotar a Team Rocket e depois retoma seu posto na Elite.
Não aparece ou é mencionada em G/S/C.
Pokémon
R/G/B/Y
FR/LG
Primeira batalha
Segunda batalha
No Mangá
Na temporada Yellow do mangá, Lorelei é uma impiedosa vilã que, junto com Bruno, Agatha e Lance tentou matar todos os humanos que não eram gentis para os humanos. Congelou Red e Sabrina no gelo, causando-lhes machucados que duraram por anos. Tem a habilidade de criar bonecas voodoo de gelo. Foi derrotada por Sabrina e Blue na Cerise Island.
Desapareceu por um longo tempo, mas retornou salvando Red e Green da Beast Warrior Trio Rocket. Ela se junta aos garotos para invadir a Team Rocket, que invadiu as Sevii Islands.
Pokémon
Curiosidades
Antigamente, o cabelo de Lorelei era roxo, mas atualmente está ruivo.
Ad blocker interference detected!
Wikia is a free-to-use site that makes money from advertising. We have a modified experience for viewers using ad blockers

Wikia is not accessible if you've made further modifications. Remove the custom ad blocker rule(s) and the page will load as expected.