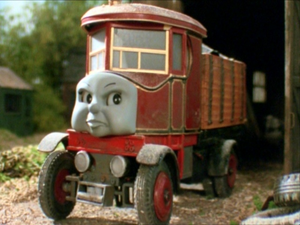 Elizabeth
is a vintage Sentinel steam lorry. She does not like laziness or rudeness, and will respond to both in the strongest terms. Although she believes roads are superior to rails, she often helps the engines out. She is Number 49
Appearances
Season 6 - Elizabeth the Vintage Lorry Jack Frost Rusty Saves the Day and Faulty Whistles
Season 7 - Not So Hasty Puddings
Season 8 - Thomas and the Tuba and Emily's Adventure
Season 9 - Thomas' Day Off (cameo)
Season 11 - Emily's Rubbish Smoke and Mirrors Thomas Sets Sail Toby's Triumph and Wash Behind Your Buffers (cameo)
Specials
The Great Discovery (cameo)
Tale of the Brave
Born in
Died in
She was also the only character able to insult the Fat Controller without getting into trouble, as she was the first lorry he ever drove.
Elizabeth was first introduced in season 6 and made appearances within the 7th, 8th, 11th series.
Theme
Elizabeth's theme is her Season 6 theme.
Counterparts

 WARNING: You may add appropriate counterparts. But, do NOT delete any.
Kraka-Toa (TUGS)
Kammy Koopa, Birdo, Mecha-Birdo, or Wendy O. Koopa Super Mario Bros)
Mama Robotnik, Princess Kupacious, Breezie, Wave the Swallow, Zeena, Katella, Rouge the Bat, or Zorabel (Sonic the Hedgehog)
Midge Smoot or Evil Midge Smoot (Shining Time Station)
Agnes Skinner or Edna Krabappel (The Simpsons)
Gypsy or The Queen (A Bug's Life)
Grandma Thora Read or Molly MacDonald (Arthur)
Aunt Myrtle (The Wubbulous World of Dr. Seuss)
Ms. Fowl (Jimmy Neutron)
Mrs. Cutler (Scooby Doo)
Mrs. Estelle Dabney (Good Luck Charlie)
Mrs. Brinks (Angela Anaconda)
Bonnie (Kim Possible)
Kathy Copter (Cars)
Katnappe (Xiaolin Showdown)
Madame Morrible (Wicked)
Mawile (Pokemon)
Marsha (Fanboy and Chum Chum)
Numbuh 86 (Codename: Kids Next Door)
Miss Pink Cat (Noddy's Toyland Adventures)
Courtney, Staci or Sugar (Total Drama)
Taylor (Total Drama: The Ridonculous Race)
Lovey Asparagus, Archibald's wife (Veggie Tales)
Granny Dryden (Postman Pat)
Diamond Tiara, Trixie Gilda the Griffon (My Little Pony: Friendship is Magic)
Me-Mow (Adventure Time)
Flashwing (Skylanders)
Rita's Grandmother (Flushed Away)
Ms. Mucus (Camp Lazlo)
Butters Stoch's Grandma (South Park)
Miss Taylor (Pete's Dragon)
Javior Rios (Monsters University)
Ma Beagle (DuckTales)
Tiffany, Tempestra, Viral, or Shreeka (Teenage Mutant Ninja Turtles)
Queen Machina or Trakeena (Power Rangers)
Gnorga (A Troll in Central Park)
Juri Han (Street Fighter)
Mona Lisa (Mr. Peabody & Sherman (2014))
Thekla the Spider (Maya the Bee/Movie)
Dr. Badger (Zootopia (2016))
Parodies

 WARNING: You may add parodies. But, do NOT delete any. Complete parodies list
Gallery
See also