Elizabeth Delaney-Podmore, 1710

Cargo
Reitora
Sexo
Feminino
Cor do Cabelo
Castanho escuro
Cor dos Olhos
Pretos
Fraternidade
Não estudou
Marido
William Delaney-Podmore

Nome Completo: Elizabeth Delaney-Podmore
Nascimento: 25 de maio de 1676
Local de Nascimento: Port Royal, Caribe.

Biografia:
Elizabeth nasceu numa pequena ilha do caribe onde conheceu na sua adolescência o Pirata Bruxo Will Dethline. Eles foram os únicos bruxos que tem história, e são responsáveis por várias histórias desde de navios fantasmas que desaparecem até navios inimigos que pegam fogo do nada.
Rapidamente ficaram ricos e mundialmente famosos, e o Conselho dos Professores acreditou que eles eram as pessoas ideais para ensinar como a vida bruxa é perigosa mundo à fora.
Os Delaney-Podmore já estavam mesmo decidindo abandonar a vida de pirataria e acertaram o cargo como os novos reitores da Noskort. Foi uma supressa quando o famoso navio deles surgiu no Lago de Gelo.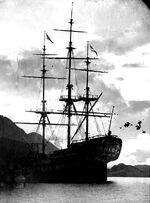 Eles foram os únicos reitores que não usaram a Área Residencial dentro da Universidade como moradia, ambos continuaram vivendo no Jóia do Mar. Até o escritório deles era no navio.
Apesar de tudo Elizabeth nunca foi vista usando uma varinha ou fazendo algum feitiço, corre o boato que ela pode ter enganado à todos, e nunca ter sido uma bruxa. Embora seu quadro, e ela sempre contando suas histórias de pirata cheias de aventuras para os alunos no Grande Salão parece comprovar que tal boato seja falso.
Embora, ela nunca conta sobre sua morte. Ela foi encontrada boiando no lago, sem nenhum ferimento, dizem que ela mesmo se jogou da prancha do Jóia do Mar, mas algumas histórias falam que podem ter sido um antigo pirata rival...
Página Inicial | Reitores

Ad blocker interference detected!
Wikia is a free-to-use site that makes money from advertising. We have a modified experience for viewers using ad blockers

Wikia is not accessible if you've made further modifications. Remove the custom ad blocker rule(s) and the page will load as expected.