Elliot, George, Sedgewick and Jack's Big Exit is a sequel to Jonah: A VeggieTales Movie.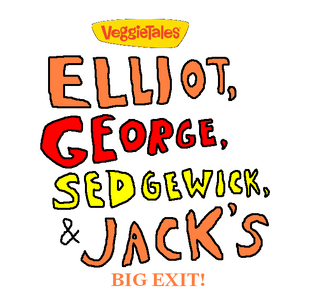 Characters
Larry the Cucumber as Elliot
Petunia Rhubarb as Bernadette
Mr. Lunt as Sedgewick
Ellen as herself
PA Grape as George
Ma Grape as Caroline
Nicky the Pepper as Jack
DVD Artwork
Front Cover
Back Cover
Opening Previews
Warning screen
Coming Soon to Own on DVD bumper
Now Available to Own on DVD bumper
DVD menu
Why We Do, What We Do
Scene Index
VeggieTales Theme Song
Countertop Intro
Heading to a Concert
The Seafood Restaurant
A Message for Little Tikes Town
The Storm!
Jack Walks the Plank
"Sonnet of the Cucumber"
The Value of a Promise
A Big Musical Number!
What We Have Learned about the Value of a Promise
Credits
Closing Previews
Huhu Studios, ltd. Logo
Big Idea logo
DVD Credits
Bonus Features
Ad blocker interference detected!
Wikia is a free-to-use site that makes money from advertising. We have a modified experience for viewers using ad blockers

Wikia is not accessible if you've made further modifications. Remove the custom ad blocker rule(s) and the page will load as expected.