Ellody is a scientist and was on The Geniuses team with Mary on Total Drama Presents: The Ridonculous Race.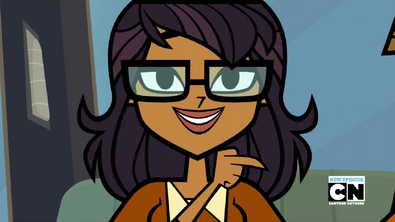 Counterparts (Female version)
Twilight Sparkle (My Little Pony)
Velma Dinkley (Scooby Doo)
Susan Test (Johnny Test)
Gadget Hackwrench (Chip 'n' Dale: Rescue Rangers)
Belle (Beauty and the Beast)
Sandy Cheeks (SpongeBob SquarePants)
Jeanette (Alvin and the Chipmunks)
Inez (Cyberchase)
Blossom (The PowerPuff Girls)
Gogo Tomago (Big Hero 6)
Jennifer Shope (Supernoobs)
Dora the Explorer (Nick Jr's Dora the Explorer)
Counterparts (Male version)
Simon (Alvin and the Chipmunks)
Edd/Double D (Ed, Edd, n Eddy)
Alejandro Burromuerto (Total Drama World Tour)
Dexter (Dexter's Laboratory)
Lewis (Meet the Robinsons)
Samson (Camp Lazlo)
Hiro Hamada (Big Hero 6)
Cameron (Total Drama Revenge of the Island)
Ad blocker interference detected!
Wikia is a free-to-use site that makes money from advertising. We have a modified experience for viewers using ad blockers

Wikia is not accessible if you've made further modifications. Remove the custom ad blocker rule(s) and the page will load as expected.