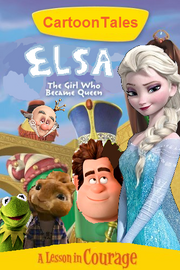 The king needs a new queen, and Elsa has been chosen! This would be in theaters Thanksgiving 1995, replacing "Character Story".
VHS Opening Previews
Green FBI Warnings

JimmyandFriends Intro (New & Excitement From Disney)

Walt Disney World 25 Anniversary Promo

"Join Us For a Special Preview From Walt Disney Pictures"/101 Cartoons (Live Action) Trailer

JimmyandFriends' Flint Trailer

Elsa Video Game & CD Rom Trailer

On ABC Bumper

ABC Saturday Mornings Promo

"Coming To Video"/JimmyandFriends' Bambi Trailer

The Hunchback of Notre Dame Trailer

Honey We Shrunk Ourselves Trailer

Feature Presntation Screen (Thanks for joining us for this Special Preview)

JimmyandFriends Home Video Logo

JimmyandFriends Logo

Pixar Logo
Ad blocker interference detected!
Wikia is a free-to-use site that makes money from advertising. We have a modified experience for viewers using ad blockers

Wikia is not accessible if you've made further modifications. Remove the custom ad blocker rule(s) and the page will load as expected.