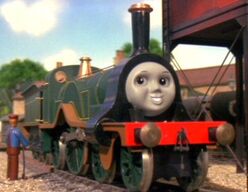 Emily to the Rescue! is a book using photos from the television series.
Plot
Lightning McQueen and Mater arrive at Tidmouth Sheds, and tell Thomas and James that they are to make a character list for Thomas the Tank Engine Tales, the new show coming to PBS Kids on August 1st, 2013. James gets some paper and a pencil, and writes down the characters that he thinks should be on the show. When Thomas reads James' character list, he is surprised to see that Emily is not included. James tells Thomas that he has not included Emily because he thinks she is not a useful engine. This makes Thomas upset because he knows that Emily is a very useful engine, but James says that she is going to retire. Thomas doesn't want Emily to retire, but James angrily cuts him off, saying that Emily made him silly. Thomas gets upset with James, and tells him that he should think of other engines, not himself. James gets very angry, and continues to make rude remarks about Emily, saying that she is not a reliable engine, so she will only get in the way, and then he leaves.
Thomas sees Sir Topham Hatt at the station, and tells him about the character list that he and James made. He also tells him that James refused to include Emily, and about him insulting her. Sir Topham Hatt agrees to attend to the matter immediately. He concocts a plan.
The next morning, Sir Topham Hatt calls Emily to the yard. He tells her that he wants her to shunt coaches at Knapford. Emily is puzzled; who will do her goods work? Sir Topham Hatt reassures Emily that Percy will do it for her. Emily leaves to go to Knapford.
Meanwhile, at Tidmouth Sheds, James is pleased that Emily is out of the way, and that Percy is going to do the goods work.
Percy, however, is not happy. The trucks are teasing him, and playing their silly games. They approach Gordon's Hill, and Percy goes slower and slower. Finally, Percy stalls on the hill, and his driver sees James coming. When James comes nearer to the hill, he buffers up to Percy's goods train, and tries to set off again, but his wheels just spin and spin. His driver realizes that they need a back engine, and sends for Emily.

Emily has finished shunting the coaches for Gordon and Henry, when Sir Topham Hatt drives up in his car, and tells her that Percy and James are stuck on Gordon's Hill, and that she must rescue them. Emily sets off immediately.
Emily finds Percy and James, both engines stuck on the hill. She tells them not to worry, and that she will help them both up the hill. Percy is very grateful, but James doesn't say thank you. Emily buffers up behind James' passenger train, and helps him up the hill, as well as Percy.
Emily, James, and Percy arrive at Tidmouth Sheds. Percy cheers for Emily, and declares that she is a really useful engine, while James frowns embarrassedly. To make James even more upset, Sir Topham Hatt reprimands him for being rude about Emily, and not including her on the character list. Sir Topham Hatt says that Emily has proven to be, "useful, reliable, and very helpful."
The next morning, James sees Emily at the shunting yard. He apologizes to her for insulting her, and not including her on the character list that he and Thomas made. He also admits that Emily is very useful after all. Emily accepts James' apology, and James never talks about her retiring again.
Characters
Donald and Douglas (mentioned)
Annie and Clarabel (do not speak)
Trivia
Ad blocker interference detected!
Wikia is a free-to-use site that makes money from advertising. We have a modified experience for viewers using ad blockers

Wikia is not accessible if you've made further modifications. Remove the custom ad blocker rule(s) and the page will load as expected.