Translation : Manager from Mechelen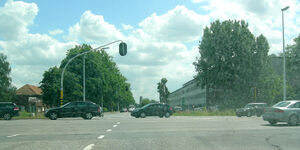 Emmanuel Pauwels was een fabrikant uit Mechelen. Hij was de stichter van Pauwels Trafo.
Emmanuel Pauwels was de vader van Vic Pauwels, bestuursvoorzitter (of CEO) bij CG.
Geschiedenis
Emmanuel Pauwels vergaarde zijn kennis over transformatoren bij zijn vorige werkgever, doch – in 1947 – hield hij het er voor bekeken. Met zijn ingenieursdiploma van de Ecole des Arts et Métiers [1] en een meestergast [2] van zijn vorige werkgever werd begonnen met de bouw van kleine transformatoren voor industriële toepassingen in zijn kelder (en later in een [1]) op de Kleine Nieuwendijk (40-42) in Mechelen.
Na de Tweede Wereldoorlog ontvouwde de toenmalige Mechelse burgemeester Antoon Spinoy plannen voor een nieuw industrieterrein in Mechelen-Noord, waarop Emmanuel Pauwels direct op inspeelde. Hierbij voorzag Emmanuel Pauwels dat er na een oorlog altijd een periode zou aanbreken van economisch herstel. Deze beslissing leidde meteen tot de bouw (eerste steenlegging in december 1958) van een "groot fabriek" aan de Antwerpsesteenweg (167) in Mechelen. Alzo kreeg het bedrijf een naam in de wereld van de transmissie en distributie van elektriciteit.
Vic Pauwels
In 1959 kwam Vic Pauwels in de zaak en bouwde hij het familiebedrijf verder uit tot een wereldspeler van elektrische transformatoren. Met het inbrengen van de groep in het Indische Crompton Greaves Ltd in 2005 (herdoopt tot CG in 2009) breidde het bedrijf zijn assortiment verder uit met componenten, schakelapparatuur en totaaloplossingen. In 2010 werkten er ongeveer 1.000 mensen in Mechelen en 8.000 mensen wereldwijd voor de groep.
In 2008 ontving de Pauwels Group een Life Time Achievement Award van het Mechelse Voka. [3]
Site Pauwels
De site Pauwels, op de Kleine Nieuwendijk waar Emmanuel Pauwels ooit begon, werd later omgebouwd tot een residentiële woon-en kantoorbuurt. [4]
Beeldbank
Vraag
Tijdens de Olympische Zomerspelen van 1924 in Parijs nam ene Emmanuel Pauwels uit België [5] deel aan het onderdeel zeilen (Yachtnaam : Antwerpia V). Tot op heden is niet geweten dat dit Emmanuel Pauwels uit Mechelen was.
Externe links
Voetnoten
Ad blocker interference detected!
Wikia is a free-to-use site that makes money from advertising. We have a modified experience for viewers using ad blockers

Wikia is not accessible if you've made further modifications. Remove the custom ad blocker rule(s) and the page will load as expected.