Emmy 
is a character from
Dragon Tales
.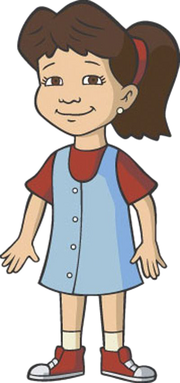 Counterparts
Rosie or Emily (Thomas the Tank Engine and Friends)
Pearl (TUGS)
Koko (Chuggington)
Tanya Cupper (Shining Time Station)
Princess Daisy (Super Mario Bros.)
Cream the Rabbit (Sonic the Hedgehog)
Jigglypuff or May (Pokemon)
Tiff (Kirby)
Orgoch (The Black Cauldron)
Hahli (Bionicle)
Cindy Lou Who (Dr. Seuss)
Sister Bear (The Berenstain Bears)
D.W. Read (Arthur)
Kathy or Baby Bop (Barney & Friends)
Toots (Tom and Jerry)
Prissy Polly (Horrid Henry)
Ami (Hi Hi Puffy AmiYumi)
Penelope Pussycat (Looney Tunes)
Dorothy the Dinosaur (The Wiggles)
Jenny or Rita (Oliver and Company)
Inez or Jackie (Cyberchase)
Wilma Flintstone (The Flintstones)
Willie Scott (Indiana Jones)
Laura Carrot (VeggieTales)
Dee Dee (Dexter's Laboratory)
Beth (Total Drama)
Finberley (Fish Hooks)
Gallery
Ad blocker interference detected!
Wikia is a free-to-use site that makes money from advertising. We have a modified experience for viewers using ad blockers

Wikia is not accessible if you've made further modifications. Remove the custom ad blocker rule(s) and the page will load as expected.