Lazarus Kersk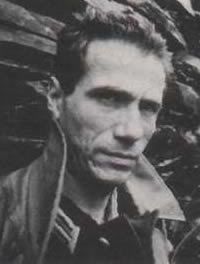 | Date of Birth: | December 8, 1916 |
| --- | --- |
| Birthplace: | Hades Cluster |
| Tribe: | Ninthian |
| Age: | 64, Deceased |
| Gender: | Male |
| Height: | 6 foot 1 inches |
| Weight: | 164 lb. |
| Eye Color: | Hazel |
| Hair Color: | Originally Brown |
| IQ: | 156 |
| Occupation: | Deceased, Former Emperor |
| Sexual Orientation: | Straight |
| Religion: | Roman Catholic |
Styles of
Emperor Erik Kersk Xericus
Reference style
His Imperial Majesty
Spoken style
Your Imperial Majesty
Alternative style
Emperor
Emperor Lazarus Lionsbane Kersk Xericus was born on December 8 of 1916 to Emperor Shane Kersk Xericus and Empress Anne, Shane and Anne were distant cousins and were married primarily as a political gesture. Lazarus was an only child due to his father's death by assassination in the First World War. Anne was carrying a second child, but miscarried and died due to complications, leaving Lazarus as the sole heir of his father and the empire.
Until Lazarus reached an age where he could take the throne, the empire was ruled by his uncle Godfrey, but Godfrey is not listed as a past Emperor due to customary law. Lazarus took the throne in 1934 and quickly became an ally of Nazi Germany, was a trusted confidant of Adolf Hitler and supplied weapons, money and training to German troops.
Pro-German sentiment carried the empire throughout the Second World War. The American Pacific Fleet commenced coastal bombardments, but was met with heavy artillery fire. The vast majority of the imperial government spent the war in subterranean bunkers, from which Lazarus directed the war. Allied forces managed to make set foot on the coast twice during the entire war, each time they were met with heavy fire and suffered immense casualties. Following the collapse of the Nazi government and the events of Hiroshima and Nagasaki, the ITD government managed to steal plans for nuclear weapons of their own. A working prototype was quickly developed; the Allies and the Hadethan Empire were soon at an impasse, either suffer oblivion and nuclear winter or seek a diplomatic solution. In the end, but sides agreed to a phased mutual stand down and ceasefire. Through negotiations, the Hadethan Empire managed to gain political control over much of the Axis powers, specifically Italy and Germany.
Following the war, Lazarus commenced rebuilding the empire, which suffered from Allied aerial bombings. Feudal taxes were reinstated to pay for the rebuilding process. During this time Allied Chemical, a company that produced chemical weapons was purchased by Lazarus, who diversified the companies' holdings and assets, acquired several smaller companies and expanded the product line of Allied Chemical; Allied Chemical was later renamed Allied Industrial Chemical and further reorganized as the Venom Corporation under Lazarus' son Erik.
In 1940, Lazarus married a young woman named Rose Vosii, a prearranged marriage, but Lazarus lamented this marriage, seeking love in a prior relationship with another woman he met during the war, Clara Valor. Clara birthed twins, Daniel and Anne in 1946, Rose gave birth to Erik in 1950; she had full knowledge of her husband's extramarital affair and endured it for nearly sixteen years until she finally took her own life after revealing the cause of her despair and grief. Erik developed a deep resentment for his father's infidelity to his mother and went into a self imposed exile. Lazarus, wishing to mend ties with his son, ceased his relationship with Clara, had her children's identities hidden and spent several years in despair over the apparent loss of his family.
During the late 1960's and 1970's, Lazarus used his business connections to run smuggling operations in indo-china, smuggled weapons into Vietnam and provided 'vices' to American soldiers, ranging from drugs to prostitution. Erik was working for the black scorpion crime family, at first as a small time enforcer but started moving up in the ranks. Erik eventually came across another fellow 'lost soul' by the name of Daniel Reck, Erik's unknown and older, illegitimate, brother. Erik and Daniel worked for the black scorpions until 1978 when Erik returned home and found Daniel a 'piece of cake' job as a security officer at a television media building. Lazarus welcomed his son home, but had fallen once more to lust and had again had children with another woman, Isabelle Messina, who died soon after childbirth. Lazarus made Erik his chief of security.
In 1980 a small secessionist group, which was funded by the Israeli government, began attacking imperial arms depots and military bases. A small force was sent into assess the situation and was overtaken by enemy fire, loss of contact was taken to mean a stronger enemy presence than originally estimated. A full force was dispatched to quell the group; imperial forces used heavy artillery fire to install shock and awe and used toxic nerve gas to destroy the enemy forces.
During this time, a small group of IDF soldiers managed to find their way into the capital, captured a television and media satellite station and began broadcasting a general 'call to arms' against the empire. Daniel Reck managed to recapture the building, which he had been given a job as chief of security. What many regard as an act of war by the Israeli government against the empire, an enemy unit found its way into the imperial palace and assassinated the Emperor. The enemy was shortly killed, but no knowledge of his true nation of origin was ever discovered, and how he managed to find entry into the palace remains a mystery. Erik took the throne.
The Empire of Itinerate Tree Dweller

Main article: Itinerate Tree Dweller
Individuals: Daniel Reck, Emperor Erik Kersk, Emperor Lazarus Kersk, Empress Persephone Kersk, James Riker, Rickter Scott
Ad blocker interference detected!
Wikia is a free-to-use site that makes money from advertising. We have a modified experience for viewers using ad blockers

Wikia is not accessible if you've made further modifications. Remove the custom ad blocker rule(s) and the page will load as expected.