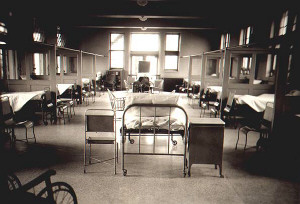 ---
A enfermaria cumpre sas atribuições em dois campos principais da Medicina: Medicina Preventiva e a Medicina Assistencial. No campo da preventiva, voltada aos alunos, a Enfermaria desenvolve trabalho de vigilância epidemiológica, mediante implementação de campanhas de vacinação, como aquelas que ocorrem contra a catapora draconiana e scrofungulus.
No campo assistencial, a Enfermaria desenvolve atividades de orientação para pronto atendimento e encaminhamento médico.
Camas separadas por uma pequena parede e cortinas brancas, cada uma com uma pequena janela com uma bela vista do Lago de Gelo. Localizado na Ala Oeste da universidade, é onde fica os alunos (e as vezes, algum professor) que fica doente ou é ferido.
A sala cheira à lavanda e chocolate, por causa dos doces que a enfermeira Adelaide Bortoleto sempre oferece aos alunos. Sua salinha e dormitório são ao lado da enfermaria, para ela poder atender seus pacientes 24 hora por dia. Também tem um pequeno estoque de todos os tipos de antítodos existentes.
Página Inicial | Estrutura

Ad blocker interference detected!
Wikia is a free-to-use site that makes money from advertising. We have a modified experience for viewers using ad blockers

Wikia is not accessible if you've made further modifications. Remove the custom ad blocker rule(s) and the page will load as expected.